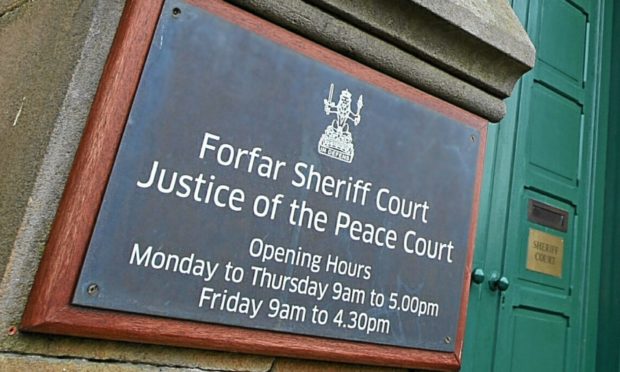 An Angus man who picked a scab on his face before claiming to police his ex-partner had cut him with a knife has been warned he may be facing jail.
Steven Connery, 35, of Esk Park Terrace, Brechin, appeared before Sheriff Simon Collins QC at Forfar.
He pled guilty to the charge of making false accusations he had been assaulted by his ex-partner, and wasting Police time.
Connery admitted that, on July 23 at Jessie Street, Blairgowrie, he falsely accused his ex-partner of assaulting him by reporting to Police Scotland that on March 5 she had cut him on the face with a knife to his injury.
In the March incident, officers had wanted to speak to Connery regarding an allegation against him.
When traced, he was holding a knife to his own throat and threatening to cut himself.
The cut to his face was caused by him picking a scabbed over cut and claiming it was a fresh injury.
When one of the police officers involved in the July incident advised he was the also attending officer who traced him on March 5, Connery retracted the complaint against his ex-partner.
He also admitted that on July 26 2018 at his home address, he made false accusations to Police Scotland officers that his ex-partner had assaulted him on July 23 at the Blairgowrie address by stabbing him in the neck with a knife, causing two cuts to his neck which he knew to be false and wasted police time.
Defence solicitor Angela McLardy told the court her client had previous convictions, which he admitted.
She asked for background reports to be considered before sentencing.
She said: "My client has significant mental health difficulties and I think this was a cry for help.
"He has only just secured a tenancy with Angus Council and is on all different types of medication for depression and other anxiety conditions.
"I would ask reports are to be considered before conviction."
Sheriff Collins noted the offences occurred almost immediately after Connery was released from prison.
He said: "It is not looking good so far. I cannot rule out a custodial sentence."
Sentence was deferred until November 8 for the preparation of a criminal justice and social work report and a restriction of liberty order assessment.
Connery was released on bail with the condition he does not approach his former partner in any way.