The dream of a late Angus peer to see a Polish general permanently honoured in his adopted Scottish homeland has been realised with the installation of a spectacular bronze statue in Edinburgh.
Polish sculptor Bronislaw Krzysztof watched with pride as the memorial to General Stanislaw Maczek and his Polish soldiers was placed outside the the City of Edinburgh Council chambers ready for a formal unveiling on Saturday, November 3.
The sculpture was created following a public appeal for funds and with support from the Polish Government.
General Maczek was commander of the 1st Polish Armoured Division and was appointed by Winston Church to defend Scotland's east coast from potential invasion.
He played a key role in the Battle of Normandy, preventing the retreat of thousands of German soldiers at the Falaise Pass, and liberated parts of France, Belgium and Holland.
After the war he was stripped of Polish citizenship by the Communist government, compelling him to stay in Scotland.
As the British government did not consider him an Allied soldier, he was also refused a military pension and even denied combatant rights, but worked as a barman in an Edinburgh hotel.
Little was known of his war time activities in Scotland until his death in 1994 when Lord Fraser of Carmyllie represented the UK Government at his funeral and heard for the first time about his achievements.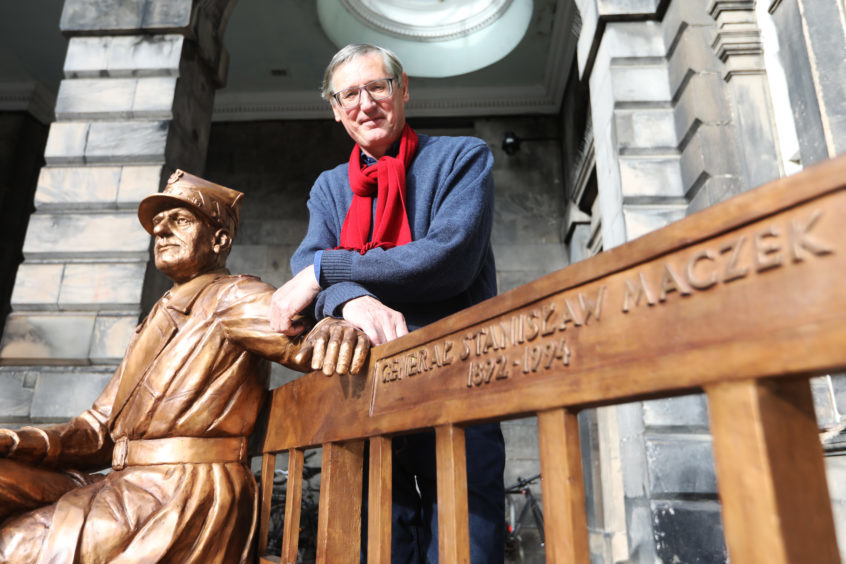 The Angus peer, Scotland's former Lord Advocate launched a public appeal for funds to create a permanent memorial to Maczek and his men, but the project stalled with Lord Fraser's death in 2013.
Lord Fraser was posthumously honoured with one of Poland's highest awards in recognition of his work to see the general recognised and the statue appeal was revived with help from his wife Lady Fiona and their daughter Katie, as well as his PR advisor Archie Mackay and lawyer Roddy Harrison.
Katie Fraser said: "The memorial is quite superb and a fitting tribute to General Maczek and his Polish soldiers.
"We are delighted to see it in position ready to be unveiled in time for the 100th anniversary celebrations of Poland regaining independence."
Mr Mackay added: "It is a wonderful sculpture and this is a very significant day.
"The official unveiling will be a very special occasion and we have been inundated with interest from those planning to attend."