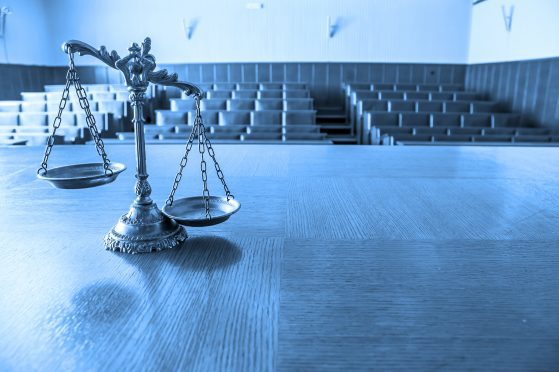 Innovative justice solutions including a so-called "hug-a-hoodie" court and a women-only intervention programme are delivering increasingly successful outcomes for Angus offenders, according to a new report.
In the latest full-year Angus Community Justice Partnership full-year report to the end of this March, schemes such as the problem solving court, set up at Forfar Sheriff Court last year, have been hailed as targeted intervention programmes that are keeping folk out of jail and reducing the risk of re-offending.
A separate day on the Forfar court diary was set aside for cases to be directed to the problem solving set-up which was tagged the "hug-a-hoodie" court by some.
It has no formal eligibility criteria, but deals primarily with woman and young men between 18 and 25-years-old.
The partnership report revealed the problem solving court is now dealing with up to a fifth of all the cases in the court system.
Those figures include some of the female offenders who have been given the opportunity to participate in the Angus-specific Glen Isla project, for offenders on a range of disposals including high tariff structured deferred sentences and community payback orders.
In the reporting period, 53 Community Payback Orders were completed by 35 women engaged in the Glen Isla project, with an 84.5% completion rate.
Just 5% of the women on the Glen Isla project appeared on a custody list in 2017-18, compared to a previous figure of 55%.
Arbroath Independent councillor Lois Speed said: "I'm pleased to see this report and encouraged by the progress that has been made.
"Our community justice partners work hard at helping to prevent and reduce offending and it's important to recognise the works and success stories that have been achieved and made possible through programmes and initiatives such as The Glen Isla Project and the Problem Solving Court.
"Often life-changing works are carried out in Angus day in, day out and it' s vital that there is an awareness of this within our communities as relationships can play such a key role in helping someone turn their life around.
"Thousands of hours of unpaid work are undertaken by people with convictions across Angus, and those that have offended as well as the victims of crime often have huge hurdles to overcome.
"There is still a lot of stigma and misunderstanding that surrounds these type of incidents. Community involvement, business support and social opportunities can play such a big part in helping enable good outcomes and it would be helpful to see this type of support grow in Angus."
Local priorities of the past year were also reported to Angus Integration Joint Board members within the document.
They included prisoner throughcare to improve access to services on release from custody, early intervention to prevent offending and reduce re-offending, and the development and implementation of a youth justice strategy.
Building the capacity and profile of the Angus unpaid work programme and raising awareness of community justice to identify and address issues of concern also remain key objectives.