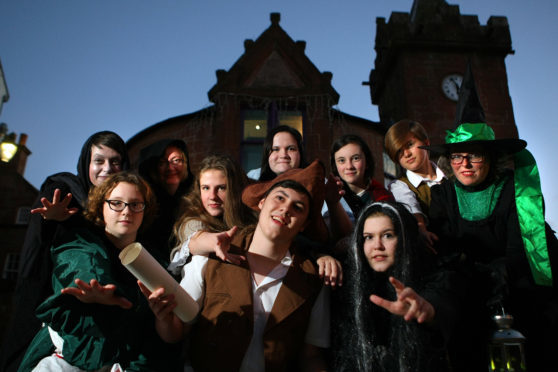 Characters from Kirriemuir's macabre past are to be brought to life in a spooky guided walk through the town, with local youngsters stepping into the gruesome roles.
In a repeat of a popular event staged by the town's Gateway to the Glens museum, Webster's High School pupils have risen to the challenge of recreating Kirrie's darkest characters for the scary wander around the streets this week.
Those brave enough to sign up for the event will hear tales from Tam Barnett, the jailor and town drummer famed for his risqué announcements made from the steps of what is now the museum building.
They are also likely to encounter the ghost of Reverend Eddie, and that of Mary Ann Innes, whose tragic fate was the talk of the town in 1891.
She was the wife of local landlord John Webster, and fell ill in August 1890, dying just a few days later from what a doctor diagnosed as gastroenteritis.
But after it emerged her husband had taken out a sizeable insurance policy,  Mary Anne's body was exhumed and found to contain traces of arsenic, with poisoning then determined to be the cause of her death.
The discovery led her husband to the court in Edinburgh in February 1891 and a trial involving more than 60 witnesses – but not the key figure of a hotel barman who was found drowned in one of the Kirrie factory cooling ponds shortly before proceedings got underway.
Local historian David Orr researched the grim tale, learning that despite a trial which revealed a picture of marital disharmony, Webster was acquitted by the jury after less than ten minutes of deliberation.
He returned to the area, working as a theatre manager in Dundee before heading off to Canada for a new life, with a new woman.
Museum officer Rachel Jackson said, "We are delighted to be running our popular spooky walk again this year and have been working with a group of very enthusiastic pupils from Webster's High School, who play the roles of some of Kirriemuir's darkest characters."
She said the young volunteers had spent Friday afternoons researching the burgh's sinister history, making props and costumes for the historical guided walk.
A Halloween walk is already a sell-out, but tickets are available for the walk on Thursday at 7pm, starting at the Gateway to the Glens Museum, £4.80 for adults and £2.70 for concessions.