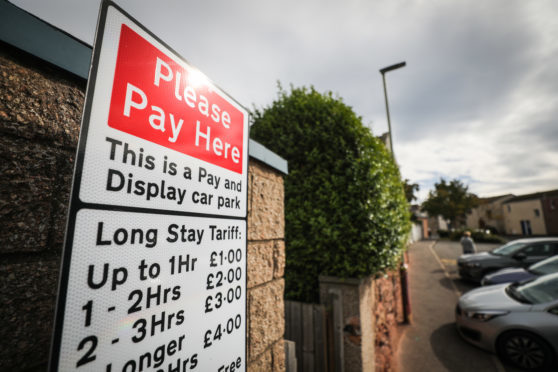 Just over 200 drivers have signed up for a parking permit under a new charging scheme which comes into force in Angus on Thursday.
The changes, projected to generate £700,000 a year for the council, will come into force at 33 off-street car parks across the district at 8.30am, meaning motorists will have to fork out for the first time in 22 years.
The proposal was put forward as part of the council's 2018 budget. Elected members pulled back from introducing fees for on-street parking as well.
A rate of £1 an hour, up to a maximum of £4 for four to nine hours, is being introduced.
Charging had been due to come into force on October 1. It was delayed following a setback with the equipment needed to run the solar-powered  cashless payment machines.
Payment can be made by credit/debit card, chip and pin or by smartphone via a dedicated web page. Drivers can also register for ticketless parking to save time.
The authority has revealed 54 annual and 154 six-monthly permits were purchased online in advance of the charges coming in —  adding up to a total income of just over £34,000.
On-street parking remains free for up to half an hour in towns across the district.
Residents have slammed the authority for setting an annual permit charge of £260, saying it is comparable to what people living in cities such as Edinburgh and London have to pay.
Electric vehicle owners in Angus have also been disappointed to learn they will not enjoy the same benefit as Dundee drivers who can park for free in the city as long as they register with the city council.
A spokesperson for Angus Council said free parking for EVs would only apply when they are using a charging point, whether full electric or hybrid vehicles.
A handful of car parks – Fowlis, Glamis, St Vigeans, Rosemount Road and Elliot in Arbroath, William Street, Ferryden and the north and south seafront facilities in Montrose – will not be subject to charging.
Brechin EV owner Jean Clark said: "There is a lack of charging points in Brechin already.
"One worry is, because while charging you do not pay for parking, electric car owners will leave their cars there for longer than the stated time so that they do not have to pay."
Having already been critical of the authority for leaving residents with less than two weeks to sign up for a half-year or yearly permit, she has now raised the EV issue with local councillors in the hope the rules might be changed.
"My dilemma now is whether I buy a yearly parking permit at a cost of £260, to then be advised that on February 1 2019 all electric cars parking in Angus Council car parks are free," added Mrs Clark.