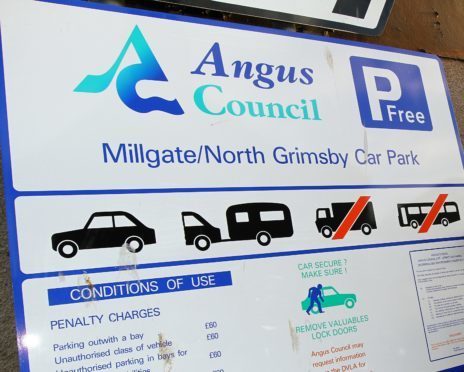 It's probably safe to assume Joni Mitchell is not too familiar with Forfar.
And even if she was, it's also a stretch to think the Canadian songstress may have had the once lush green layers of The Myre in mind as she lamented paradise being paved and a parking lot put up in her 1970 hit, Big Yellow Taxi.
But Ms Mitchell could have been writing for the whole of Angus when, a few lines later in her marvellous tune, she opined: "Don't it always seem to go, That you don't know what you've got,'Til it's gone."
Until Thursday past, of the many things Angus had was an absence of car parking charges.
You could drive into The Myre, or any of 32 other car parks across the county, in a big yellow taxi, a small blue hatchback, or anything else with two or four wheels and simply leave it there for free.
And although the good denizens of the district had been given fair warning as well as a full explanation of why parking meters have reappeared after being absent for more than two decades, it didn't stop drivers blowing a gasket on the morning of November 1.
Car parking charges have been reintroduced to Angus in the expectation, according to the bean-counters, they will add the not insignificant sum of £700,000 a year to council coffers increasingly creaking under growing demands.
On the evidence of last Thursday morning and the few days that have followed, there are indications the first full-year income figure on the balance sheet may be some way short of three quarters of a million.
Undoubtedly things will settle down and vehicles will return to fill more of the empty spaces which characterised car parks across Angus late last week.
And while some remain bitterly opposed to the very idea of paying, there are many – myself included – who accept that if you wheel into a public car park anywhere then it's likely you'll have to cough up.
Which doesn't mean to say questions don't remain around the impact on our fragile town centres, cashless machinery which was such a frustration on day one or annual permit charges higher in Forfar than Fountainbridge and Kirrie than Kensington.