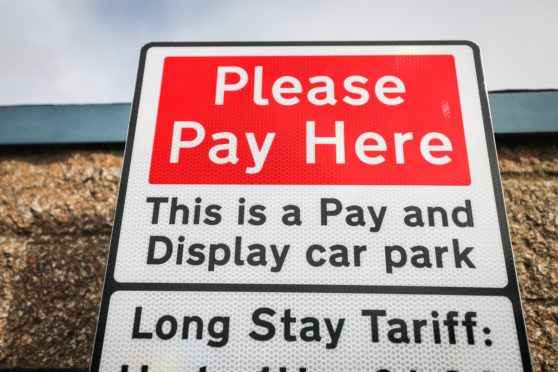 From the outset I'll hold my hands up to being in breach of a self-imposed Monday Matters rule.
Repetition is something to avoid, especially repetition on successive Mondays.
However, like the pound-an-hour levy now in place, the topic of parking charges is unavoidable.
It's hard to recall an Angus situation which has provoked the controversy of this new system, certainly in the context of Courier readers stopping me in the street, the supermarket aisle or at the shop counter.
To a person, anyone who has made comment on my work in the past week has had one topic, and one topic only, on their tongue.
I'll restate my position that I find it difficult to see why Angus should be an entirely fee-free outpost for parking.
But against the evidence of virtually empty off-street car parks, phone calls from disgruntled drivers combative towards the workings of the cashless set-up and the concerning comments from small businesses whose fragile existence has already taken a battering, the inescapable early conclusion is that it's a burach.
The noisy convoy which descended on Angus House council HQ got that message over loud and clear, and while the volume may be turned down a notch or two at a meeting between protest leaders and the council in Forfar this tea-time, the level of opposition will undoubtedly not be.
Quite apart from the negative reaction in print and on social media, the authority money-men must already be a tad jittery that the projected cash grab has a fair bit of mileage to go before getting anywhere close to the balance sheet destination.
Also now coming to the fore is the characteristic political blame game and ego-protecting posturing which stymies virtually everything connected to the running of Angus Council.
We sit on the brink of what Angus shops pray will be a bumper festive period, hopeful locals might stay off the dual carriageways and instead venture into burgh high streets and across the thresholds of the independents.
On as many occasions as I've had to endure 'them and us' bickering in the council chamber, I've also heard the proclamation Angus is "open for business".
It is up to our civic leaders to ensure that genuinely is the case in the countdown to Christmas.