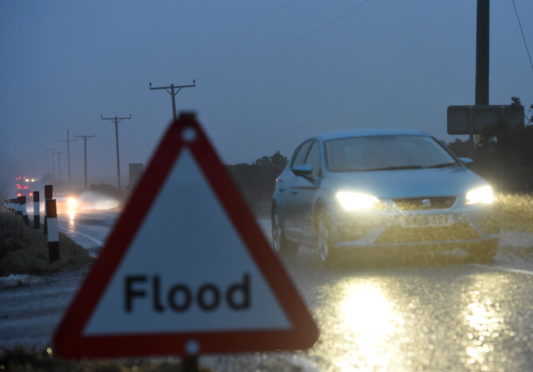 The £12 million pound Arbroath flood protection scheme has moved to its next stage in the effort to protect homes and businesses.
While some objections to the multi-million project have been overcome since details of the planned works were published earlier this year, councillors have agreed to move ahead in the face of concerns from remaining objectors.
They have raised fears over issues connected with the project and the potential impact it could have on their homes.
When complete, the scheme is aimed at removing more than 500 people from the risk of flooding of the Brothock water, which runs through the heart of the town and has been badly hit in previous years.
Annual savings from flooding of the burn have been appraised at £840,000 – £360,000 from residential properties and £480k from non-residential.
Roads and transportation service leader Walter Scott told communities committee councillors five valid objections were made to the scheme by the closing date of a public consultation period earlier this year.
"Discussions were held with the objectors to seek a full understanding of the reasons for the objection and to explore with each objector the opportunity to have the objections withdrawn, following which three of the five objections were formally withdrawn."
Key elements include the construction of three flood storage areas at Brothock Meadows, St Vigeans and Hercules Den, using embankments and flow controls to retain flood water above the natural ground level.
The remaining objections, from two locals, included concerns over issues such as reduced privacy from the creation of an embankment in the area of Park View, fears that it could be a magnet for undesirable behaviour and a possible drop in property value.
Officials recommended to elected members the scheme did not require modification to tackle the points raised.
Mr Scott added: "The decision at this stage of the procedure is not final, but is followed by further procedure which will determine whether or not the proposed scheme goes ahead.
"A further report will be presented to committee in January 2019."
Arbroath East and Letham Liberal Democrat councillor Richard Moore said: "Unfortunately we are unable to please everyone and this is a provisional decision, it is not final.
"We need to protect homes, I have seen the devastation and the impact on lives and properties, but it is not perfect.
"In terms of the comments of devaluation of property, all I would say is that the properties would be devalued a lot more if they are not protected and are flooded."