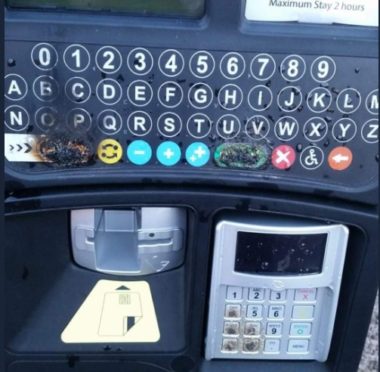 Vandals have torched parking meters in car parks across Brechin less than a month after the controversial off-street charges came into force.
Two meters were targeted last week and Angus Council has revealed damage to another two meters in separate locations was reported on Monday.
A senior councillor has slammed the incidents as "criminal actions, plain and simple".
The repair cost is set to run to four-figures and the authority has not yet confirmed how long the vandalised meters will be out of action.
A council spokesperson said damage to meters at Brechin's City Road South and City Road West car parks was reported to the authority and Police Scotland after they were hit sometime on Tuesday or Wednesday last week.
The spokesperson added: "Further vandalism to two machines at Church Street and Maisondieu Lane East car parks in Brechin has now been reported to the council and police today.
---
---
Angus communities committee convener, Montrose Independent Councillor Mark Salmond said: "There is never any valid excuse for wanton vandalism of this type.
"Ultimately, it is the taxpayer that has to pick up the cost to repair these machines, which in turn means less money for other vital services
"These are not acts of protest – they are criminal actions plain and simple and ones that achieve nothing other than inconvenience and considerable cost to the public purse.
"I would urge anyone who has information that could assist police enquiries to get in touch with Police Scotland."
The solar-powered machines were installed in time for the return of off-street parking charges to Angus on November 1 following an absence of more than two decades.
However, the re-introduction of the charges, charges for residents' permits and issues with the payment system have led to widespread criticism.
Businesses in local towns claim their takings have been drastically hit in the lead-up to the crucial festive period.
Council "burying head in sand" over Angus parking charges, campaigners say
Many of the 33 car parks which were made subject to charging have also seen little use in the past month.
The scheme was introduced by the cash-strapped authority in the hope of generating £700,000 per annum.
Anyone with information relating to the vandalism can contact Police Scotland on 101 or the Crimestoppers charity anonymously on 0800 555 111.