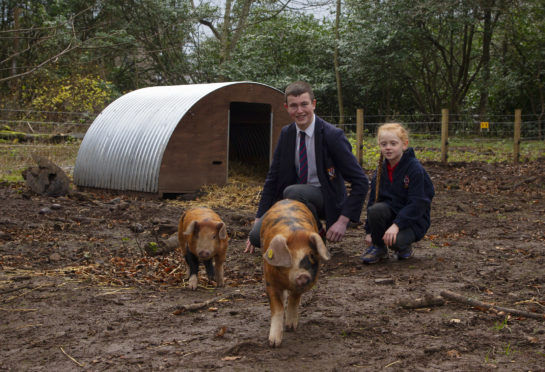 Mearns school pupils are getting their snouts in the trough of outdoor learning by rearing pigs.
The pig patch will provide a wide range of valuable lessons for pupils at Lathallan School including the need to care for animals.
The Johnshaven school was praised in an Education Scotland inspection report for providing a "rich and engaging outdoor learning environment" for pupils.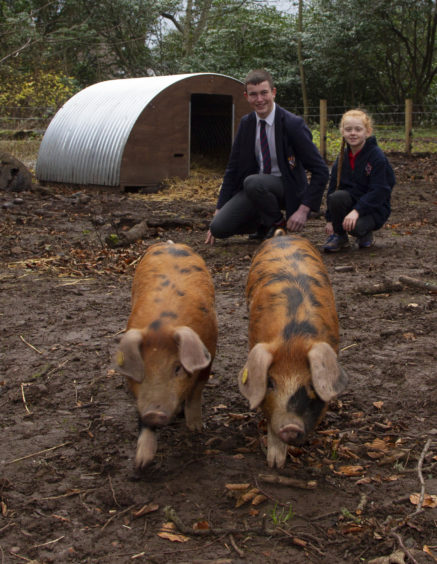 With a treehouse classroom, zipwire, polytunnel, potato field and chickens already at the Johnshaven-based school, the nine-week old Oxford Sandy and Black piglets have added to the farm family.
The pigs arrived from Inverness-based homegrown food company River Croft and will be looked after by pupils with regular farming duties at Lathallan.
Headmaster Richard Toley said: "The arrival of the piglets is a welcome addition to our school.
"We have a few things on our school farm at the moment that have provided valuable outdoor learning opportunities for the pupils and now we have our pigs.
"One of the best things about having pigs is that it helps us teach the pupils about how to treat and look after animals.
"They have a nice big space to live in at the school and will be well looked after and well fed. Teaching children about sustainability is an important part of what we do at Lathallan.
"Our pupils regularly have a range of innovative and engaging lessons outside the classroom.
"They've had English lessons in our treehouse and learned about sustainability through harvesting and cooking baked potatoes on a homemade campfire at the school.
"Our pupils love outdoor learning and I'm sure having pigs at the school farm will prove to be an invaluable experience."
The Oxford Sandy and Black can cope with most conditions and is well suited to an outdoor system being a natural forager and browser.
It is generally prolific and the breed is known for having good maternal instincts.
Animals are known for their excellent temperament and great mothering abilities.
River Croft director Michelle Anderson-Carroll said: "By having pigs on their school farm, the pupils will learn a wide range of valuable lessons.
"The younger ones will learn about balance as they walk on an uneven terrain to tend to the pigs and they will learn about the need to care for animals.
"Pigs are incredibly clever animals and they talk all the time and by spending time with them pupils will develop their communication skills and understanding of body language.
"Lathallan have also been very specific about choosing Oxford Sandy and Black pigs because they want to play a key role in the conservation of a rare and endangered breed of pigs."
The children will be given the chance to name the newcomers after the Christmas holidays.