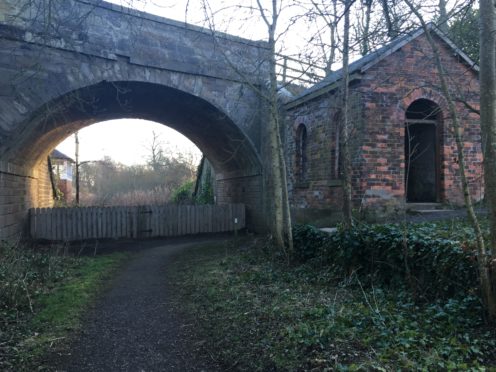 I'll not tell porkie pies and suggest their offerings have never touched my lips.
But living in bridie town blessed with a selection of purveyors of perfect pasties, the threshold of a well-known national bakery chain isn't my first port of call in search of a superior sasij roll.
Especially not a vegan one.
Fear not, this isn't a lifestyle debate, because the savoury is but a stepping stone to something else.
For the record, however, I'm of the view that a perfect steak and a perfect sky should be the same colour. Bleu.
Which takes us, in the meandering method of Monday Matters, to the waiting room at Auldbar station on the Arbroath to Forfar railway line that welcomed passengers from December 1838 and stands yet near the also surviving signal box which is now part of someone's home.
The train tracks are long gone, but the wee red brick structure which was once a stop on the straight stretch between Guthrie and Forfar is now a shelter on the circuitous route for walkers at the Loch of Balgavies nature reserve.
On countless occasions there, I have stood, eyes closed in the silence and tried to imagine the visceral spectacle of steam locomotives pulling into Auldbar to take on passengers, a scene familiar until the early summer of 1956 when the last locomotive ran through.
And alongside the great and good of the county going on their train travels, the Auldbar wagons took prime Angus cargo from the hills and glens as deer and other game was loaded up, bound for the tables of London's top hotels.
Two decades of fallen leaves were already covering the Auldbar line when Beeching's programme sealed the fate of Forfar station in 1967, but we now have a local councillor suggesting Tay Cities cash could be used to reinstate long-closed Angus railways to boost jobs and growth.
Folk have been urged to think big and look at the success story of the re-opened Borders railway – a project which worked out at about £10 million a mile.
But while the capital's affluent carnivores once helped railway freight firms survive with their appetite for fare such as Angus red meat, it's hard to think companies like Greggs will see enough demand from the veggie brigade to make sausage rolls by rail a viable Angus transport option.