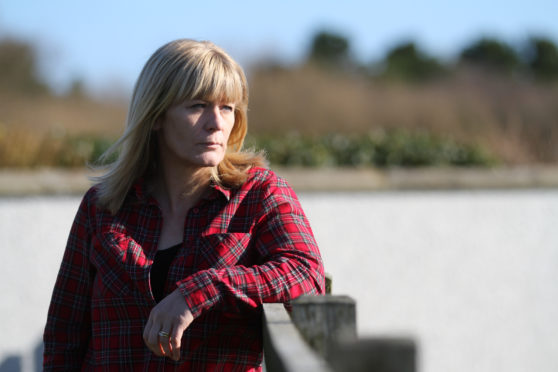 An Angus woman facing a daily battle against the effects of Lyme disease after a tick bite has welcomed the Scottish Government's decision to issue potentially life-saving equipment and advice.
Lorraine Murray, 47, of Montrose, was left virtually housebound after being bitten by a tick when walking her dog at Kinnaber in August 2014.
She described the Government's decision to issue pocket-sized pest removers to those at walking in the hills or countryside as "brilliant" and "a step in the right direction."
With up to 3,000 cases of Lyme disease recorded each year, it is hoped walkers will become more vigilant in removing the parasites.
Mrs Murray, a former fitness instructor and mother two, said: "If people are aware of Lyme disease then that is half the problem.
"People are aware of malaria but that doesn't stop them going abroad, they take the necessary steps.
"This is a step in the right direction for hillwalkers and game-keepers, that type of people,
"Ticks are so difficult to remove but this is such a simple thing to carry; people going out walking can keep it on them.
"The sooner it is treated the better. This is not about scaring people, it is about protecting them."
Mrs Murray's personal battle against Lyme disease took her to Washington for treatment in 2017.
She brought her trip forward after being diagnosed with three co-infections including babesia microti, a tick-borne disease responsible for killing two dogs in Essex.
She is still battling the aftermath of her bite and recently had to stop all treatment after developing stomach problems.
She continued: "I was not very well after August 2014 but had been doing great on my treatment.
"Unfortunately, I have developed some stomach problems so all treatment has stopped at the moment as we try to get to the root cause."
Lorraine and fellow sufferer Janye Cringean have taken their campaign for better diagnosis, testing and treatment of Lyme disease to the Scottish Parliament with Holyrood's petitions committee considering their petition.
They have called on the Scottish Parliament to urge the Scottish Government to improve testing and treatment for Lyme Disease and associated tick-borne diseases.
The pair have also launched a website –Tick-borne Illness Campaign Scotland – which is focused on achieving better treatment for patients in Scotland with Lyme Disease and related co-infections.