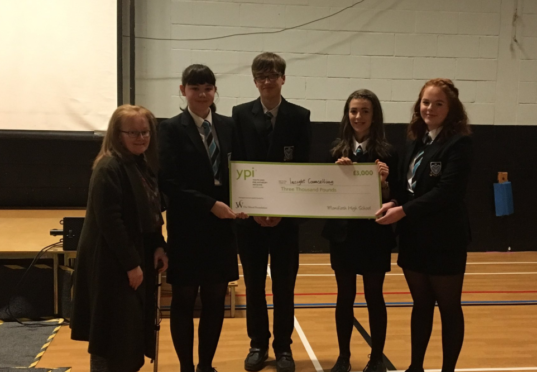 Philanthropic secondary school youngsters have used their skills in the dragon's den to deliver a double boost from a national programme helping local charities.
For the second year, teams from Monifieth High stepped into the spotlight to make the case for a four-figure windfall to their chosen charity under the Youth and Philanthropy Initiative (YPI) citizenship programme, which has overseen the distribution of millions of pounds to good causes.
Third year youngsters gave polished ten-minute pitches on behalf of half a dozen organisations, including Therapet, Cancer Support, Dundee Association for Mental Health and Izzy's Promise.
They faced a judging panel comprising school head teacher M-C McInally, Angus Council chief executive Margo Williamson, school chaplain Rev Fiona Reynolds and Graham Huband, deputy editor of The Courier in the quest to secure the £3,000 boost for their selected cause.
The skilful youngsters gave the judges a tough task before Insight Counselling was selected as the deserving recipients of the cash award, with the panel praising all of the teams for their hard work.
A spin-off benefit looks set to follow after children from other Angus secondaries were invited along to the event and have indicated their intention to take up the YPI challenge.
The Monifieth final was the culmination of research by the school teams into social problems in the local community to create a persuasive presentation on behalf of their grassroots local charity.
"YPI has positively engaged secondary school students across Scotland and awarded £2 million pounds to small, local, social service charities," said head teacher M-C McInally.
"Having been guided on how to analyse the charity's management and strategy, they are encouraged to build relationships with the charity and then exercise their skills in advocacy and public speaking to make a case as to why their proposed charity should be awarded £3000."
She said she was proud of the way all the pupils involved in the scheme had built their case and put the presentations across.
The initiative started in Canada in 2002 before gaining momentum there, as well as in the UK and US.
The Wood Foundation is the principal funder and operational manager of YPI Scotland.
Originally the Wood Family Trust, it is a venture philanthropy organisation established by Sir Ian Wood and his immediate family in 2007 with a focus on economic, community and enterprise activities in the UK and sub-Saharan Africa.