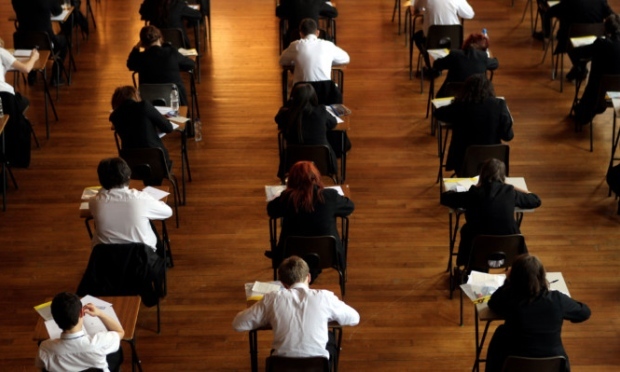 Decades-worth of teaching time are being lost to Tayside and Fife school pupils as stress takes its toll on the region's teachers.
New figures have revealed the staff time lost with stress-related sickness absence continuing to rise.
Dundee teachers racked up 3,615 days in stress-related sickness absence from January 2017 to 2018, up from 3,388 in 2017.
Angus teachers called in sick for 3,602 days in 2017/18, up from 2,829 two years previously, while the Fife figure rose from 5,177 to 5,355.
Perth and Kinross Council declined to provide stress-related absence data.
The information, obtained under Freedom of Information legislation, follows a January survey showing that more than 75% of Scottish teachers frequently feel stress because of their workload.
Tayside and Fife local authorities said the wellbeing of school staff is a priority and have detailed a raft of measures and strategies either already in place or being developed to support them.
However, the impact on school spending and staffing on local authority budgets due to be announced within days has given rise to further fears the situation will remain a major concern for councils, schools, staff and parents – and may even worsen.
In the EIS teaching union's survey last month, 60% of teachers said during the course of a typical week their workload regularly left them feeling stressed.
More than 15% of those surveyed said they were stressed "all the time".
A common theme for a number of the contributors was the challenge of teaching children with additional support needs (ASN) in mainstream classes.
EIS General Secretary Larry Flanagan said of the union survey: "Excessive workload and high levels of stress are clearly also contributing to the high levels of dissatisfaction felt by many teachers.
"It is this toxic combination of soaring workload and declining pay that has created the current recruitment and retention crisis facing Scottish education.
"Both of these issues must be addressed to ensure that Scotland's education system can continue to meet the needs of learners in the future."
Angus MP Kirstene Hair said the level of stress and mental health concern is higher "across the board" and "mainstreaming" of pupils was contributing to "challenging environments" for learning and teaching.
Scottish Conservative Ms Hair said: "Many of the constituents I have spoken to are concerned by the amount of extra pressure placed on teachers by the presumption of mainstreaming.
"While it's correct most children should be taught together, schools do not have the resources to teach a minority of pupils in the classroom.
"They need more classrooms assistants to do that, and more specialised teachers. I strongly believe teachers want their pupils to have the best education possible.
"And at a time when the Scottish Government is unable to agree a fairer pay deal for the profession, I can see why so many are feeling the strain."
Councils say teacher health and wellbeing is a priority
Local authorities across Tayside and Fife have detailed the efforts they are making to reduce teacher stress.
Fife Council's head of education, Shelagh McLean, said: " First of all it is important to put these figures in context. These are not percentages, so do not take into account the size of the authority or the total number of teaching staff.
"When compared to authorities of a similar size, Fife is performing quite well.
"We are aware that staff absence is increasing, and absence due to stress and mental illness is also rising but it is important to note that the largest proportion of stress or mental illness is not work-related.
"In Fife we are doing a lot of good work to improve the health and wellbeing of our staff. For example, we are currently working with unions to review and improve our staff welfare strategy.
"The refresh will help make sure that teachers know how to access the support they need at the right time.
"We are also currently focusing on relationships across the whole of the Education and Children's Services Directorate, this means staff relationships with each other, with senior management and with the children they work with.
"The focus on relationships means staff feel more comfortable in reporting stress or other mental health issues. We are also trying to make sure that they are getting the support and time they need to manage their own health and wellbeing," she said.
A Dundee City Council spokesperson said: "The council monitors and reports absence information to senior managers and all trade unions on a monthly basis.
"We have an agreed health and wellbeing framework which has been developed with the trade unions which forms part of the council's Our People Strategy.
"Our occupational health provider is assisting with a greater emphasis on early intervention supports for staff and in recent months there has been a more positive trend in the teaching workforce absence statistics.
"There are many different reasons for the causes of stress and absence. We work with people to help them with their own individual situation and offer assistance to them.
"All managers, including head teachers are focused on attendance management as a priority."
An Angus Council spokesman said: "We take the welfare of all our staff very seriously and encourage the reporting of any issues or incidents relating to welfare, health and safety issue in the workplace. This includes where staff experience unnecessary, undue or excessive stress.
"Angus Council has well-established policies and procedures to ensure that appropriate enquiries are carried out so that staff are supported and any issues and learning opportunities identified, acknowledged and managed.
"It is important that any member of staff who experiences stress can have confidence they will be supported in an effective way to eliminate or reduce the cause of any work-related stress they have."
A Perth and Kinross Council spokesperson said: "Perth and Kinross Council takes a pro-active and positive approach to health and wellbeing, supporting all employees to maximise their attendance at work.
"This approach is based on a robust policy framework and promoting line management skills and behaviours to support staff who are off sick or who have health issues.
"We provide a range of preventive and support measures, for those staff experiencing stress or mental wellbeing, such as stress action plans, reasonable adjustments, occupational health advice, counselling and a dedicated page on our intranet site for mental health.
"Following a successful pilot of Mental Health in the Workplace we have rolled out a manager's session on raising awareness and supporting employees."
They added: We are currently reviewing our sickness absence policies and working with the unions to do so. We are focusing our efforts on mental wellbeing and working with trade union colleagues to take forward further initiatives, including Mental Health First Aid Training.
"The council works closely with See Me, which is a national campaign to tackle mental health stigma and discrimination.  In doing so we have undergone a recent mental health check and have focused on refreshing our information on mental wellbeing on our intranet site.
"Sickness absence levels for teachers due to mental health reasons has continued to reduce throughout 2018 as we continue to raise awareness and support managers and employees."