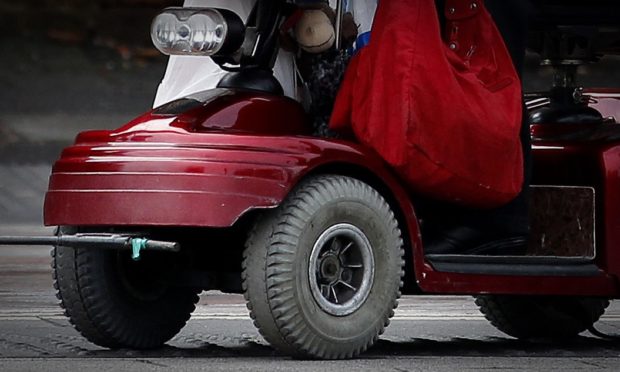 Arbroath residents have been applauded for rallying round a disabled woman after she became trapped under her mobility scooter on the seafront.
Two youngsters in the area heard the woman crying for help and directed an ambulance crew to where she lay.
The drama unfolded on Tuesday evening at the foot of a small flight of steps on the public pathway next to the Signal Tower Museum.
Arbroath mum Sonya Bews said her daughter and a friend stepped in when they noticed an ambulance going backwards and forwards while they were out for a walk near the tower.
She said: "They walked that way and heard a woman's voice. She had fallen down the steps and the scooter was on top of her."
Staff at the Signal Tower Museum were shocked to hear of the incident.
Museum officer Kirsten Coupar said: "I'm shocked and surprised. I hope the lady is okay.
"It's nice to hear kids reacted in that way and they were quick to assist the woman. They acted very responsibly."
The drama unfolded across the road from the Bell Rock restaurant.
Manager Khaldon Musa, who has run the business for 15 years, said he knew a lot of the regulars in the area.
He said: "If I had seen anything I would have been the first to jump in to help.
"I am so sorry to hear about someone lying there.
"I hope the lady is okay and when she is better I invite her to come in for a free three-course meal."
Arbroath pensioner Warner Shaw, 65, also uses a mobility scooter after suffering two strokes.
He said: "I hadn't heard about this lady but I hope she is okay.
"It can be quite dangerous when you are trying to get on and off pavements. Cars also park at the dropped kerbs which are there to help.
"I have been tipped off before, but have found everyone so helpful, including the younger generation.
"On one occasion I was in my scooter beside the academy and there was a group of young lads on the pavement. They all stepped out of my way and asked if I would manage – people are like that in Arbroath but sometimes the youngsters get a bad press."
A Scottish Ambulance Service spokesperson said: "We received a call at 8.12pm on Tuesday to attend an incident near the Signal Tower Museum in Arbroath.
"An ambulance was dispatched and our crew checked the patient over on scene.
"The patient refused transport to hospital."