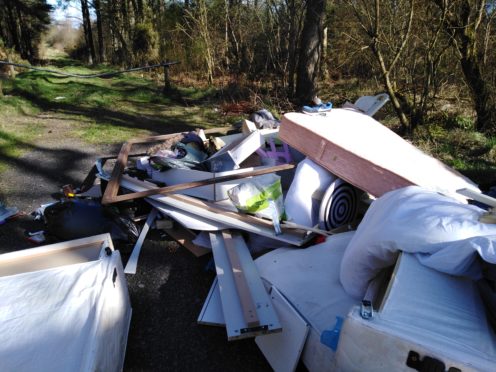 An investigation has been launched after the "contents of a flat" were dumped at an Angus beauty spot.
Rogue dumpers left debris including furniture, mattresses, a chair, black bags, clothing, shoes, a bike, toys, DVDs and a dartboard.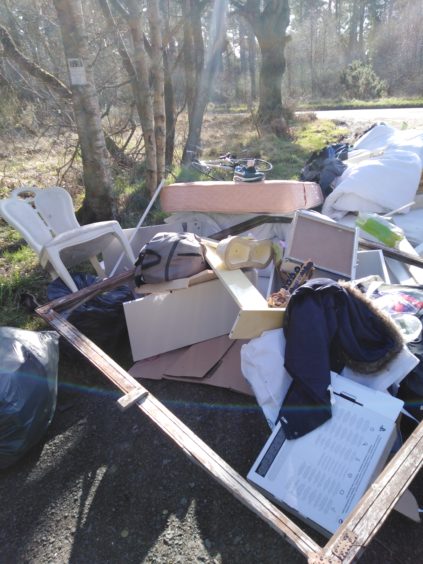 The 'disgraceful incident' at Montreathmont, east of Forfar, comes in the wake of a warning that Angus is being turned into a "giant rubbish tip" as a result of rising levels of fly-tipping and littering.
Lorraine Matthew from Kingsmuir said: "I am absolutely appalled at the fly-tipping in the Angus area at the moment.
"I am a very keen cyclist and travel through Montreathmont Forest on a regular basis and there seems to be more and more fly-tipping going on in this area every week.
"I was horrified by this recent lot of rubbish that I saw in the forest – this is such a beautiful area to live in and is being spoiled by these selfish people.
"Something needs to be done to stop it."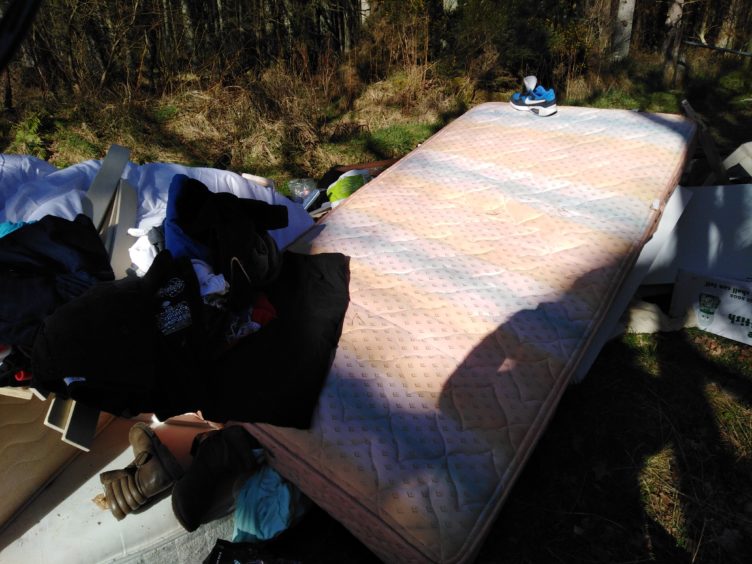 The incident comes in the wake of an investigation by Angus Clean Environments which warned the level of dumping and littering could have a negative impact on wildlife and visitors to the region.
Recent high-profile dumping incidents include a bag of asbestos that was found at Monikie.
North East region Scottish Conservative MSP Liam Kerr said: "This is disgusting and the height of laziness.
"It looks like someone has emptied the contents of a flat into this beautiful woodland.
"The fact this is so close to big general waste sites in Arbroath and Forfar only adds insult.
"Much of this looks like it could have been recycled – but that won't have bothered them either.
"If someone has gone to the effort of loading up a van, the least they could do is drive it.
"I'd like to see a toughening up of legislation to really crack down on these morons."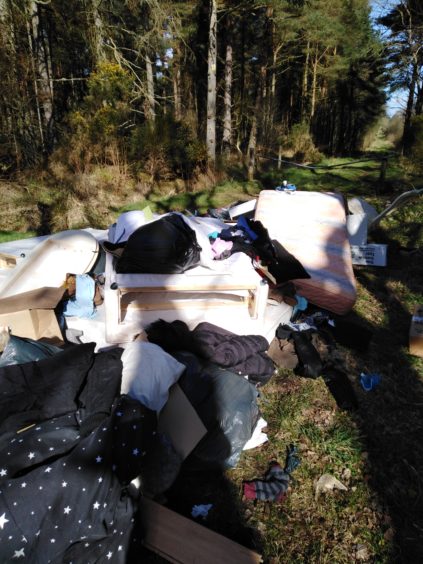 An Angus Council spokesman said: "This disgraceful incident was reported to us and we attended to clear the site and begin enquiries, which are continuing.
"We would encourage anyone who sees incidents of flytipping to report them to us by using our online form or by calling ACCESSLine on 03452 777 778.
"For larger scale incidents, contact the Scottish Environment Protection Agency.
"Enquiries rely upon information and evidence. If you see evidence of fly-tipping, please take a note of what you have seen – that can be the location and a description of what has been dumped. If you actually saw fly-tipping as it happened, then please try to make a note of the vehicle involved and, if possible its registration number.
"We investigate and dispose of fly-tipping on council ground. Where items are fly-tipped on private ground we carry out enquiries to try to find the culprits, but the landowner is responsible for clearing away the fly-tipping. We can issue fixed penalty notices of £200 for fly-tipping and courts can impose a penalty of up to £40,000."