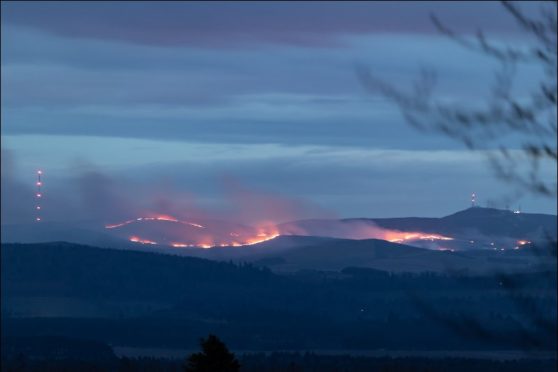 Firefighters and estate staff have been hailed for their response in tackling a dramatic Sidlaws blaze visible for miles from across Tayside.
Emergency crews from four stations in Angus and Dundee battled a two-mile fire front on Friday evening, after hill burning which had been going on earlier in the day got out of control.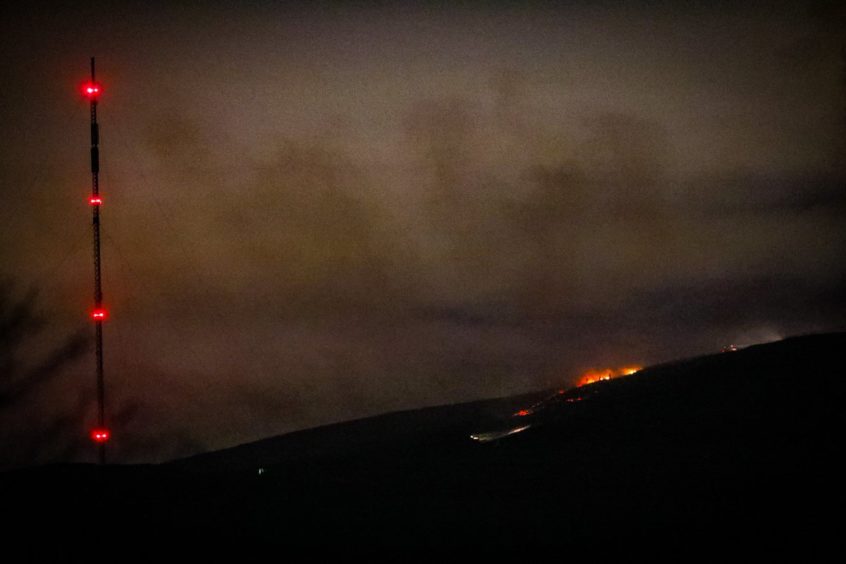 Fanned by strong winds which whipped up late in the afternoon, the fire quickly spread across the hillside around Craigowl, south of Glamis.
Estate workers are understood to have raised the alarm and Scottish Fire and Rescue Service retained crews were initially sent from Kirriemuir and Forfar, before being joined by appliances joined by further appliances from Dundee's Kingsway and Macalpine Road stations.
The blaze sent a huge pall of smoke into the Angus sky and flames stretching across the hillside could be seen from as far away as Kirriemuir.
Beaters were used to put out the flames and estate staff are also understood to have used diggers to create fire breaks in the effort to stop the spread of the blaze.
SFRS control said they received the emergency call minutes after 6pm and six appliances attended, with the fire brought under control in an hour and a half.
Police Scotland confirmed officers attended the incident for traffic management purposes and the incident is not being treated as suspicious.
Angus Council Monifieth and Sidlaws councillor Craig Fotheringham said he was relieved the incident had not involved any injury.
"First and foremost there should be absolute praise for the emergency services for bringing it under control as quickly as they did," he said.
"I am also pleased that no-one was hurt, either firefighters, estate workers or members of the public.
"This sort of thing just shows how quickly a situation like this can go beyond control if the winds change or get up and I am happy it wasn't more serious."
The blaze was in the area of Craigowl Hill, several miles north of Dundee and the highest point in the Sidlaw range.
It is a well-known location due to the presence of the highly visible broadcasting and telecommunications transmission mast