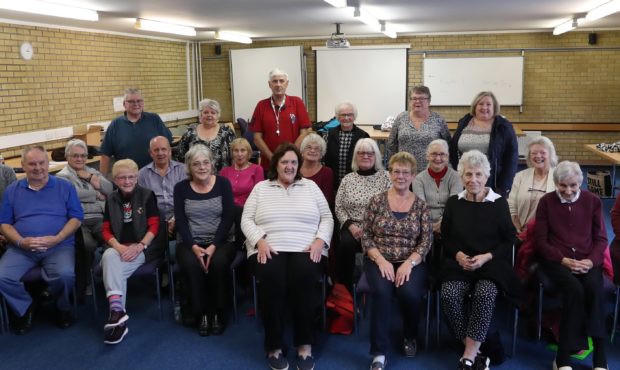 A thriving Angus health support group is seeking a tutor to help keep its members' voices strong in their bid to combat the incurable lung condition COPD.
The Forfar Airways support group has been meeting for the past decade to assist those affected by Chronic Obstructive Pulmonary Disease, with its pioneering work praised at local and national level.
It offers a range of activities to help COPD sufferers, but the loss of funding for an important music project has left a gap in the group's programme and they are hopeful a local music tutor may be willing to pick up the baton to keep the scheme going.
Forfar Airways chairman Ian Baxter said: "Our peer support group currently meets in the town's community fire station in Forfar for two hours between 1.30 pm and 3.30 pm every Monday.
"Meetings of the group usually attract 25 to 35 people, both male and female and aged from their 50s to their 90s."
---
>> Keep up to date with the latest news with The Courier newsletter
---
During the two-hour meetings, participants take part in seated activities  and enjoy light yoga  exercise under the instruction of a qualified teacher on alternate weeks.
Mr Baxter said: "During the second half of the meeting the group engage in singing and over the past year we have had the good fortune of having a trained singing tutor attend the weekly meetings."
The tutor was part-funded by The British Lung Foundation (BLF) and Nordoff Robbins music charity, but Mr Baxter said a funding issue had ended that arrangement.
"There's increasing evidence that singing regularly as part of a group is good for your general health and well-being," added Mr Baxter
"It seems to be especially good at improving your quality of life if you're living with a lung condition.
"Singing has other positive effects such as creating a sense of happiness along with a feel good factor and the group members are really missing their singing sessions with the tutor," he said.
"The group is looking for someone who could help them continue with their singing, in particular singing along to music.
"Perhaps a retired music teacher, singing coach or someone who can play a musical instrument would be willing to give their time to help."
Anyone who may be able to assist the group should contact Mr Baxter on 01307 467463.