An amputee Angus biker has hailed the "humbling" response to his life-changing accident after charity trekkers tackled a 60-kilometre weekend glens trek in support of causes close to his heart.
Popular Forfar Scout leader Iain Wallace followed doctors' orders not to overdo his involvement in the Glen Doll fundraiser, but he was determined to see off the walkers in the Kirriemuir rain and be with them along the route through Glen Clova and back to the wee red town.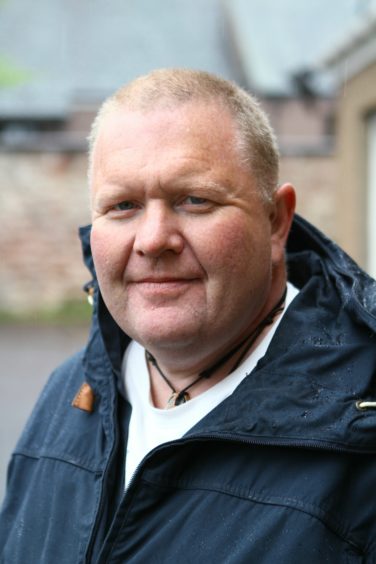 The 49-year-old was on his way home from a short Saturday afternoon trip to Glamis at the end of December when a vehicle turned into his path at Forfar's West Port traffic lights.
As a trained first aider, Iain immediately knew the injury was serious after his right leg bore the brunt of the impact.
"I was lying there and did a few checks on myself, but when I got down to my leg I knew things weren't good," said the former squaddie, who served a decade with 47 Air Despatch Squadron Royal Logistics Corps.
He suffered huge blood loss and was rushed to Ninewells Hospital where, despite the best efforts of medics to save the limb, he had his leg amputated below the knee four days' later.
His fightback to health and mobility has impressed all who know him, and is typified by his return to the 3rd Forfar Scout Group, which he still leads.
"I left hospital on Friday February 8 at 2pm and was at Scouts that night in my wheelchair," said Iain, the well-known president of the Tayside Tribe biker's group.
"For me, getting back to Scouts is a way of showing how much I appreciate how people have been since the accident because the support has been phenomenal."
Leading the support team were wife Leilah and son, Lachlan, 21, also keen motorcyclists, and 19-year-old daughter Mirren, who is also considering taking it up. However, Iain said he was bowled over by the wider reaction.
"I had over 200 visitors in the hospital – Scouts, bikers, friend and guys from my Army days including my recruiting sergeant, and my employer Life Property Management have been superb," he said.
"I bear no malice to the car driver, it was an accident and I now need to get on with my life. I'm back on my bike and I'm back with the Scouts, which I have been involved with since I was eight."
"The people who have cared for me from the start have been second to none. Every nurse, porter, doctor and surgeon has been brilliant and I would not hear a word said against them.
"It has been quite humbling to experience that care and support from so many people and we organised a rock night to show how much it is appreciated, so this walk is another way of doing that," he added.
Funds raised from the Glen Doll trek will go to the Ninewells Amputee Gym and the 3rd Forfar Scout Group.