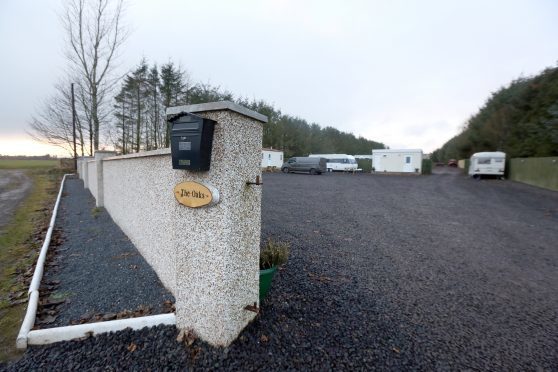 Angus Council has turned down a retrospective application to turn land near Kirriemuir into a Travellers site despite a doctor's plea.
Site owner John Townsley was previously granted planning permission for the existing Gypsy/Traveller pitch on the south western edge of Kirriemuir.
Another pitch was later formed to the rear of the approved one following the marriage of Mr Townsley's daughter, which prompted a planning battle in July 2016.
At the time Mr Townsley said he wanted to create a "safe and secure base" to allow his daughter and her husband to remain settled in the region alongside the rest of the family.
The council issued a stop notice after it discovered work to create the site was under way without permission.
Mr Townsley subsequently submitted two retrospective planning applications which were refused in January 2017 and again in April 2018.
A further application was submitted in January 2019 which has again been turned down.
Planning agent Alan Seath said the Townsley family were "providing accommodation at no cost to the public purse in a suitable location".
He said permission being granted would have provided much needed accommodation "when no other suitable, sustainable and adequate alternatives exist".
He said: "In effect, Angus Council has only one site in its overall control, at Tayock, which is at capacity with a long waiting list.
"Based on this evidence it is an undisputable fact that the council has no other suitable site to rehouse the applicant's daughter and her husband despite its claims.
"To suggest otherwise would only serve to reach a conclusion that the council are denying its responsibilities; are exercising a discriminatory approach to people who are part of the Gypsy/Travelling community; and also affecting the lives and wellbeing of two people in the Townsley family."
He said family bonds were important to the Townsley family and to ignore these factors were "inhumane and pedantry".
---
>> Keep up to date with the latest news with The Courier newsletter
---
The application was also supported by two letters from Mr Townsley's daughter's doctor confirming she was subject to a number of medical conditions.
The doctor noted she currently resides at the application site and it would be "beneficial for her health to remain at this address".
Planning service leader Kate Cowey said the application was refused because it was contrary to the Angus Local Development Plan (2016).
She said there are "existing authorised sites with capacity to accommodate the applicant's family, and as the proposal could set a precedent or open up other areas for similar development".
The council advised the travelling site at Balmuir Wood has 20 individual pitches, of which approximately 50% are currently vacant.
Mr Townsley may now appeal to the Scottish Ministers to review the case.