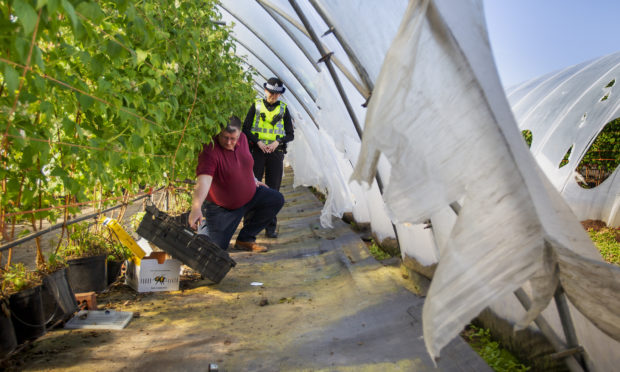 Callous vandals have caused thousands of pounds worth of damage and destroyed hives of bumblebees in a senseless weekend rampage at an Angus farm.
In the latest of a long-running series of incidents to plague the fruit-growing operation on the edge of Arbroath, staff arrived at East Seaton on Sunday morning to find polytunnels trashed and the beehives smashed in a wanton trail of destruction.
The senseless loss of the pollinating bees has particularly angered farm manager Allen Innes and could prove a major setback to the farm as it prepares for the fruit season getting into full swing.
Young vandals have been a constant headache for the business close to the popular Arbroath cliffs area, including another costly attack almost exactly a year ago.
However, the mindless nature of the latest incident has shocked and angered Mr Innes.
"They come past us on their way to places like Seaton Den to go drinking down there, but this incident is different because they have actually had to walk right into the field to do what they have done.
"They've gone running through the tunnels and cut holes in the plastic, which we replaced around this time last year after another incident.
"But what has really sickened me is that they have kicked all the bumblebee hives and destroyed them completely.
"I can maybe in some way understand them climbing on top of the tunnels trying to look big in front of their mates, but to wantonly go and destroy the home of a living animal I just don't get," added Mr Innes.
"We have a hive in each tunnel and the bumblebees pollinate the plants.
"They've seen those hives in there and have deliberately gone in to do what they have done. It is just badness that has led to this destruction and I am very angry about it," he added.
Police are investigating, but with East Seaton strawberries already on shop shelves and the first raspberries due to be picked shortly, the farm is facing a race against time to recover the situation.
Mr Innes added: "I would think the tunnels will cost at least £4,000 to repair and we will get new hives of bumblebees, but if we can't get the crop pollinated and it is affected that could give us a problem.
"Vandalism and damage is a big issue, almost nightly in some cases, and we are watching them all the time to see that they are just walking past the tunnels and not causing any damage, but I am absolutely sickened by that they have done this time."
The attack is believed to have happened between around 7pm on Saturday night and 5am on Sunday morning and anyone with information should contact Police Scotland on 101.