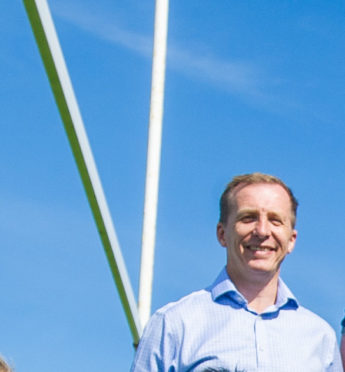 An Angus town's rugby side is enjoying a well-deserved resurgence.
Montrose and District Rugby Club leaders have announced ambitious plans for a new clubhouse and pavilion at the site of its current premises – a 1970s cricket pavilion on the town's Whinfield Road.
Bosses at the Scottish Rugby Union (SRU) yesterday gave their blessing to Montrose RFC's plans, awarding the club the maximum £50,000 available from the union's fund to support the grassroots level of the game.
It is a far cry from only three years ago, when the club had gone five years without a senior male side in the Scottish leagues.
Club president Duncan Campbell said there has been a transformation in the years since, with youth player numbers growing from five to 150 and a newly-promoted senior male side, with an average age of only 22, flying the flag for the town.
Duncan said the new Montrose clubhouse would include four changing rooms, a large public reception, medical facilities and a training and development area
He said securing the SRU money towards the £500,000 project was the "foundation of our fundraising programme". A grant from the Northwood Charitable Trust is also in place.
"We wanted the rubber stamp from Scottish rugby to say that this was something they felt was aligned with the overall community approach for Scotland," he said.
"Now we've got that, we've got real confidence to go out and secure the balance of the funding."
He said the club catered for those who had ambitions to play at a higher level, but was also determined to keep a focus on the community end of the game.
He said: "If someone wants to go on and play at a higher level then we have pathway to support them to do that, but we have an inclusive approach and everybody gets game time.
"For a lot of players, this isn't about elite rugby, it is about getting to know people and feel a sense of belonging."
A spokesperson for the SRU said the Montrose club had been awarded the highest sum available from its Club Sustainability Fund, which supports training and playing facilities at grounds across the country.
The news comes after neighbouring club, Strathmore RFC in Forfar, won promotion to the national Scottish leagues after a 17 match-winning run.