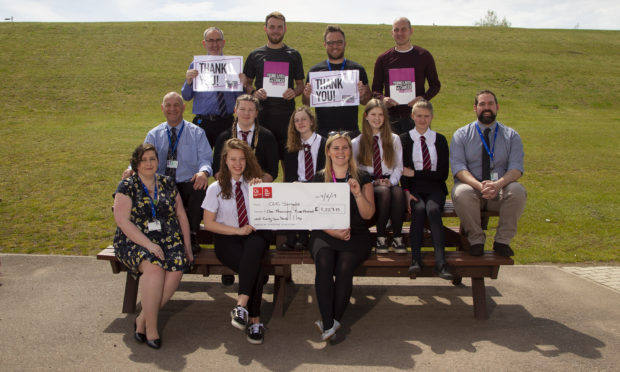 Kind-hearted Angus pupils have gone green in memory of a teenager who died in his mum's arms in December 2017.
Alex McCarthy, 13, touched the hearts of thousands of people when he decided to complete as many once-in-a-lifetime experiences as possible after doctors found an inoperable brain tumour.
Forfar Academy teacher Vanessa Moreland brought the Bristol boy's story to the attention of girls in the S3 health class and challenged them to come up with an event which could possibly raise some funds for CLIC Sargent.
They held a dress in green day in celebration of Alex's favourite colour, a bake sale and a staff coffee and cake delivery service. Youngsters also ran a mile for Alex with a fastest time sweepstake for a £50 Overgate voucher.
The pupils waxed the male teachers who had to beg for donations to save themselves from the ordeal.
The girls also convinced Bob Baldie to shave his head if they raised more than £1,000.
When they hit their target, Mr Baldie was shaved in front of the entire school and the final total raised was £1,227.
Mrs Moreland said: "My husband, Andrew is part of an online running group where he met Alex's parents.
"Alex's mum Rebecca and stepdad Steve shared with the group that his brain tumour had returned and unfortunately it was terminal.
"They eventually shared that Steve had pledged to complete 12 marathons in 12 months in 2018 which was their first year without Alex with the final run one year to the day after losing him – all for CLIC Sargent."
She said Mr McCarthy asked for the group's support in the form of sponsorship and a number of members took it further, signing up to run some of the marathons with him. They included Ms Moreland's husband who joined him for the Loch Ness marathon.
The teacher said she shared the story with the class because she "couldn't believe such a story of amazing resilience in the face of such a situation".
"These wonderful girls, then approached members of staff to take part, organised it, created the promotional videos and organised their peers to help run the events," she said.
A ride in a supercar, flying in a plane, a trip to Legoland and indoor skydiving were just a few of the special things Alex hoped to achieve before he died.