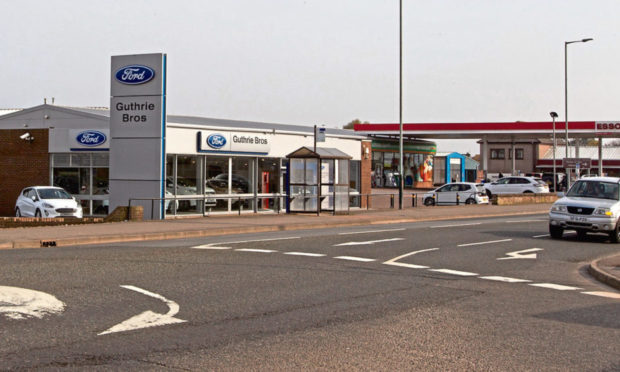 Major development plans for a prime site in Montrose, which will create up to 40 jobs, have been lodged with Angus Council.
Details of the project to modernise and expand an existing petrol station, create a drive-thru coffee shop as well and a small amount of residential development have been put forward by the EG Group, Europe's fastest growing and most recognisable forecourt operator.
It has formally published its vision which will retain and enhance the existing petrol station and ancillary retail on the site on North Esk Road.
The long-established Guthrie Brothers dealership, which includes a car sales and service centre, will be replaced by the drive-thru coffee shop and additional parking.
The residential development proposed is on an adjoining 0.5-hectare parcel of land located north of the existing car dealership.
This element of the scheme is submitted in outline only and no further details have yet been considered.
Tom Jeremiah, group planning director at EG Group, said: "Given the existing roadside facilities in this location, we know there is strong demand for such services in this area.
"The existing petrol station and retail offer is currently looking a little tired and we will be investing heavily to improve and modernise it for our customers."
Based in Blackburn, the EG Group was founded in 2001.
It employs thousands of people, with an expanding portfolio of around 380 sites located throughout mainland UK.
Its Montrose plans are expected to generate 10 full time and 30 part time  jobs with those currently employed in the petrol station being retained.
Tom continued: "We've now submitted a planning application to Angus Council and will be engaging closely with the local authority as they review our proposals.
"We think this is a really exciting development that will modernise and improve an existing service, whilst providing an additional roadside offer."
The move marks the end of an era for the Guthrie Brothers car dealership, which has operated in Angus for 70 years.
Business owners George and Derek Mitchell announced in April they had accepted an offer from the EG Group for the purchase of their Ford dealership and neighbouring petrol station.
As the petrol filling station and convenience store were sold as a going concern those employed full time in this side of the business will move across to EG Group on July 1.
A statement from Guthrie Bros said : "Motor dealerships are not part of their portfolio and, although all possibilities were explored, this means Guthrie Bros Ford will unfortunately close at a similar timeframe."
EG Group is also developing a petrol station, retail unit, restaurant and associated parking next to Angus Council's headquarters in Forfar.