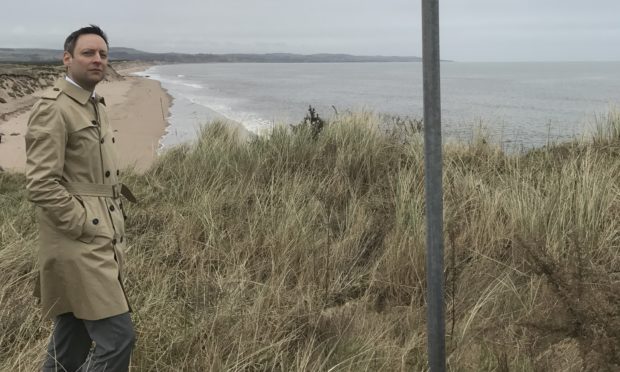 The Scottish government has been urged to avoid an "existential threat" to Angus after another section of its sea defences collapsed.
Part of the Montrose coastal wall collapsed last week following similar damage to the wall at Arbroath harbour in January.
North East region MSP Liam Kerr has urged the SNP's environment secretary to step in and make the Angus coast a "priority" in its 2022-2028 flood strategy.
Roseanna Cunningham visited the town in 2017 during earlier calls for her government to stump up cash for flood defences.
Scottish Conservative Mr Kerr has now asked the cabinet secretary to bring forward her solution as problems have reached a "tipping point".
He has asked what actions are being taken to "ensure the local community and businesses in Montrose no longer face an existential threat" from coastal erosion.
In his letter to Ms Cunningham he wrote: "Over the last few years we have seen this erosion reach a tipping point.
"I warned in December 2016 at spring tides in a storm we face the serious risk of a breach in the dunes.
"As you know I have visited this community and area many, many times both before and since that time and it is easy to see the impact of the erosion, particularly over the past 20 years.
"Right now, we see hard evidence of this."
He said local people believed money should be made available, as a priority, under the Scottish Government's 2022-28 flood strategy.
The collapse of rock armour on a section of wall at Montrose beach prompted calls for urgent action over fears a child could lose their life.
A section of the beach was cordoned off after part of the coastal defence system "caved in" at the end of last month.
Children were warned to stay away amid fears for their safety and Angus Council confirmed works to repair the hole have been ordered and would begin shortly.
A Scottish Government spokesperson said: "Reducing flood risk is a priority for the Scottish Government and we are providing local authorities with £42 million each year through the Local Government Capital Grant to help them invest in flood protection measures.
"We are aware that Angus Council has commissioned a flood study for Montrose which will consider the role of erosion and flood risk to the area.
"Funding for any coastal flood scheme brought forward by the council for Montrose can be considered as part of the second generation of Local Flood Risk Management Plans 2022-28."