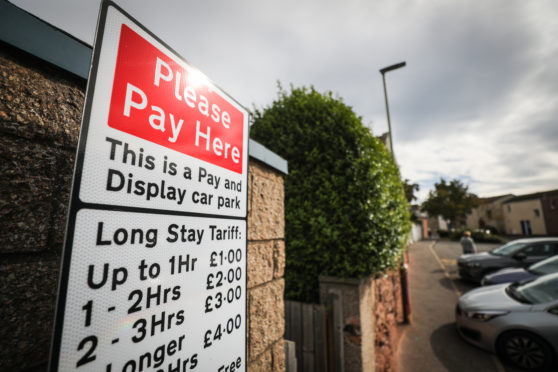 Angus Council has bowed to public pressure and taken steps to reduce some of the frustration experienced by motorists trying to pay for a parking ticket in its off-street car parks.
As of this week, drivers will no longer have to key in their vehicle registration number at the controversial ticketing machines.
Engineers have re-programmed all 40 payment meters across the county in a move intended to simplify and speed up the payment process.
Communities vice-convener, independent councillor Tommy Stewart, said: "We recognised having to put in a registration number was slowing the payment process down and was proving frustrating for drivers.
"By removing this step, we can make it easier to park in our off-street car parks."
Meters in short-stay car parks have also been adjusted to reflect the extension from two to four hour stays – again in response to user feedback.
Signs in the nine short stay car parks will be altered to make the change clear in the near future.
The policy of no return within two hours will remain in place.
Communities convener, independent councillor Mark Salmond, said: "It's a common sense approach that again demonstrates we are listening to people's views when it comes to enhancing the Pay to Park service.
"Given we charge just £1 an hour up to a maximum of four hours in all other car parks, it makes sense to give drivers the opportunity to do the same in our short stay car parks."
The local authority is also preparing to install 14 coin-operated meters in nearly half of its car parks after last month's full council meeting agreed recommendations put forward by a members officers working group.
This came in response to public demand, highlighted in a survey that showed almost two thirds of respondents would use the car parks more frequently if they could use coins.
The machines will be installed at four off-street car parks in Arbroath and two in each of Brechin, Carnoustie, Forfar, Kirriemuir and Montrose.
Plans give consideration to cost, location, whether the car park is short or long stay, how frequently it is used, its proximity to the high street, and impact on tourism.
Parking permits are also available.
The parking charges have proved highly contentious since they were introduced in November 2018, with traders blaming them for a sharp decline in business.
A drop in the number of motorists using the car parks has also led to concerns that the income from the scheme will fall far short of the £700,000 predicted by Angus Council when it was launched.