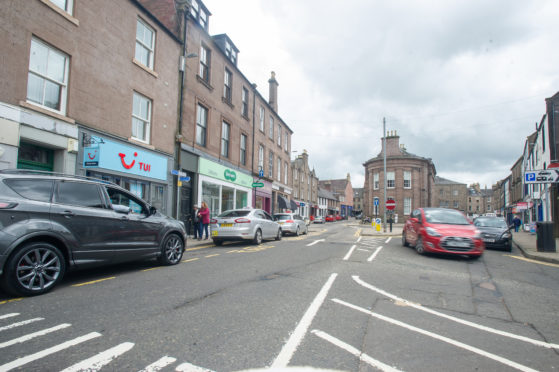 Mindless "scumbags" have left a trail of destruction after smashing their way through an Angus town centre and destroying newly planted trees in a public park.
Forfar business owners have been left counting the cost after their premises were targeted on Tuesday evening, with calls being made for a CCTV camera to be installed in their street.
Councillors have condemned the spate of vandalism, which has left a newsagent, coffee shop owner and take-away business out of pocket, as well as the public purse being hit by hundreds of pounds worth of damage.
Newsagent Asif Yaqoob, 39, discovered a side window at his shop had been smashed when he arrived at 5am on Thursday.
He said: "Three shops have been targeted. I have been here for seven years but this is the worst I have known.
"They have just smashed the window and have run away."
Asif, who was attacked in his newsagents by a knife-brandishing youth in 2015, said businesses were repeatedly being targeted.
"We are here to serve the community but the towns are beginning to look like ghost towns, and now we have shops being boarded up because of vandalism.
"Money should be spent on our safety, there should be a CCTV camera in the street."
Hannah Muir, 26, owner of Purdy's coffee shop, labelled those responsible as "absolute scumbags."
She said: "I discovered the window had been smashed when I came in at 8am. My heart just sank.
"As well as the inconvenience there is the financial implications.
"It's absolutely disgusting."
As police investigate the smashed windows and damage done at the Five in One take-way in Castle Street, appeals have also gone out for information regarding five trees found snapped in half in the Reid Park.
Communities convener and Independent councillor Mark Salmond said: "My immediate reaction to any vandalism is – why?
"What does it achieve and what possible satisfaction can be derived from this kind of pointless destruction?
"Our officers will be removing the broken trees shortly.
"These trees were planted, at a cost of £150 per tree,  to replace mature trees lost through age or disease.
"Enhancing the tree population helps us to make a difference when it comes to reducing our carbon footprint.
"With no identified budget to replace the vandalised trees, their loss has done serious harm to the regeneration of this historic park."
SNP councillor Lynne Devine also condemned those responsible.
She said: "As well as the trees we have at least three shop windows vandalised on Castle Street.
"I will be contacting the council to see if we can get a CCTV camera.
"This is totally mindless, those responsible have no pride in their town."
A Police Scotland spokeswoman said: "We are aware of the vandalisms and damage to trees and are carrying out enquiries.
"Anyone with any information is asked to contact Police Scotland 101."