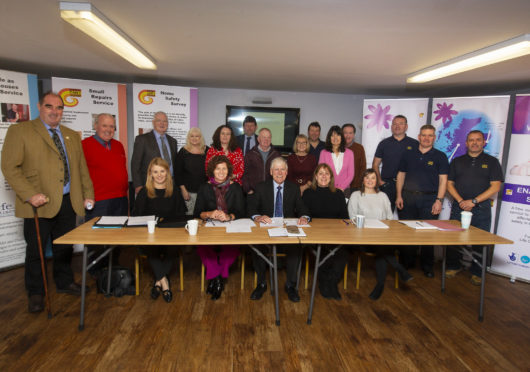 Angus Care and Repair's chairman has spoken of his pride in the organisation's service to the local community following its controversial closure after more than quarter of a century.
The Forfar-based body has shut its doors after council funding cuts contributed to the decision which led to the loss of nine posts.
A new provider will now deliver the services after they were put out to tender.
Care and Repair chairman Jim Johnston said the success of the organisation over 25 years deserved to be celebrated.
"We have assisted people with almost 65,000 jobs over the years and have no doubt made people safer, more comfortable and secure in their homes," he said.
"The focus of Angus Care and Repair has always been prevention.  Whilst the Care and Repair initiative was set up to help older people to repair their homes, by 1997 we expanded the service to assisting people to carry out major adaptations in connection with social work as well as helping to replace roofs, improve energy efficiency and eradicate damp and condensation.
"By 2006 we were assisting almost 200 people with drawings, specification, tenders, support and funding advice for major adaptations."
Small repairs and Safe as Houses initiatives launched with charitable funding have helped some 35,000 people, helping the frail elderly avoid trips and accidents in their own homes, and involving simple but effective measures including fitting smoke and CO2 detectors or door peep holes and chains.
"Most importantly, they received a trusted officer experienced and trained to take time to explain and support them during the works," added Mr Johnston.
The group received seven-figure Life Changes Trust funding three years' ago to run a dementia enablement service in Angus as well as co-ordinating the same services in Aberdeen and Lochaber.
"In Angus we carried out 555 enablement checks for people living with dementia which resulted in adding specific dementia equipment and adaptations, referring on for minor adaptations and telecare equipment and fitting 12,000 pieces of equipment that would otherwise not have been identified until later on, if at all," Mr Johnston continued.
"We certainly were all willing to turn our hand to anything that we thought would help older and disabled people to live independently in their own home, to go that extra mile to make a difference, to care about people and transform services to suit the person.
"It is with a heavy heart but with immense pride in our achievements that I thank everyone that we have assisted for making it a very special service."
Angus Health and Social Care Partnership previously said it had attempted to work with the body to participate in the tender process but that had not been taken up, and has stressed there will be no reduction in funding or level of service under the new arrangement.