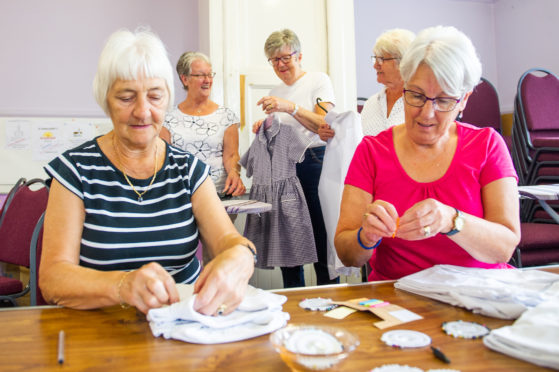 A free school uniform 'pop-up' shop designed to help Angus parents struggling to clothe their children has been extended to meet a growing demand.
The project, run by members of St Margaret's Church in Forfar, is reaching further into the local community, offering a much needed boost to families trying to juggle rising household costs.
Initially set up for Forfar's three primary schools, it now supplies new or nearly new clothes for pupils at Forfar Academy, Webster's High School in Kirriemuir, and primary schools in Letham, Kirriemuir, Glamis and Inverarity.
Last year it handed out 2,000 items of clothing, with the 'shop' in the church hall now providing a full kit for primary and secondary pupils.
Organisers say they want to break down the stigma of relying on support during a difficult time, while backing people who want to recycle good clothing rather than send it to landfill.
The success of the Forfar project has now been replicated in Monifieth and there are plans for a similar project in Arbroath next year, a move welcomed by the Reverend Maggie Hunt of St Margaret's.
She said: "The shop will run all next week and on the Monday and Tuesday before the schools go back.
"We ran for a week at the start of the summer holidays, and also opened up another shop during the Easter holidays.
"We have thousands of items, not just shirts, trousers, shorts, pinafore dresses, hats and scarves, but lunch boxes, juice bottles, everything needed to kit a child out for school.
"We also have winter coats, all of which are handed out free of charge.
"Most of it is good as new, which has been laundered, but there are some new, unworn items still with labels on.
"This is the fifth year we have run the shop. The good people of Forfar have taken this on as their own, they now see it as an eco project to not only save money but to save clothes going to landfill."
Although the shop is a St Margaret's Church initiative, you do not have to be a church member, Christian or have any faith to use it.
Rev Hunt welcomed similar projects now being set up adding: "I have been in touch with Monifieth Parish Church who are doing a pop up shop, and have been in touch with Martin Fair at St Andrew's in Arbroath, so this is beginning to spread."
The Angus schemes are part of a growing trend for school uniform swaps across the country.
John Dickie, director of Child Poverty Action Group in Scotland, said it was great to see local communities finding ways to help reduce the cost of school clothing and encouraged parents to apply for the £100 school clothing grant available in Angus and elsewhere.
"There's no question that far too many families are struggling on inadequate incomes, and the costs of school are a real pressure and stress for parents and children." he said.
"The bottom line is that UK government social security cuts are driving increasing numbers of children in Angus and across the UK into poverty. If he is serious about supporting families the new Prime Minister needs to restore the value of child benefit and end the two child limit for universal credit."
The Forfar shop will be open from 10am until noon on August 5 to 10 and again on August 12 and 13.
The shop at Monifieth Parish shop will also run next Monday to Friday, from 10am to noon and 2-4pm in the Gerrard Hall.