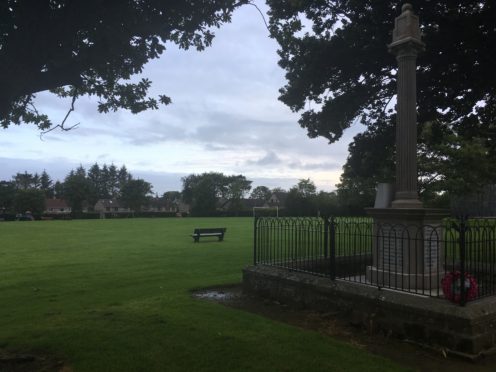 A historic park at the centre of the largest village in Angus is set to join a scheme commemorating the ultimate sacrifice of those who perished in the First World War.
Dempster Park in Letham is being recommended for inclusion in the Fields in Trust Scotland Centenary Fields programme, which aims to give extra protection for green spaces across the country.
The initiative is led by Fields in Trust (FiT) in conjunction with the British Legion and Poppy Scotland. Angus communities committee councillors will next week be asked to add the park to a growing list of locations with FiT status.
Officials say the site will remain in the council's ownership. Letham was chosen since it meets the prime requirement of having a war memorial in the park.
The authority will enter into a minute of agreement with the open space organisation to use the site for recreation only.
Centenary Fields status prohibits building on the site, although changing rooms, pavilions, kiosks and cafes which could enhance the recreational credentials will be allowed.
Under a previous FiT scheme, Ferryden playing field and Auchterhouse park were designated King George's Fields.
The district also took part in the Queen Elizabeth Fields challenge to create a legacy of the Queen's Diamond Jubilee and London Olympics of 2012, and Glasgow's 2014 Commonwealth Games.
Riverview Park, Monifieth; Montrose Mid Links, Kirriemuir Hill, Forfar's Boyle Park, Carnoustie House grounds, Brechin Park, Birkhill Park and Arbroath West Links all secured Queen Elizabeth Fields status.
Angus Provost and the authority's veterans' champion, Kirriemuir Conservative Ronnie Proctor, said he hoped fellow councillors would be behind the idea.
"Anything which is going to benefit the community and the county is to be welcomed, and as veterans' champion I applaud this initiative," he said.
Dempster Park takes its name from the Dundee-born founder of the village, George Dempster, the son of the 2nd Laird of Dunnichen.
He was a key figure in the Scottish Enlightenment and earned the nickname Honest George during his time as an MP between 1761 and 1790.
Dempster's portrait hangs in the debating chamber of Forfar's Town and County Hall, where councillors will make their decision on the FiT proposal on Tuesday.