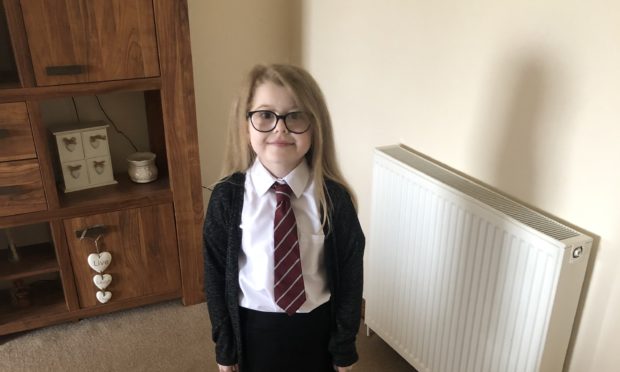 There was one very special little girl among the hundreds who went back to school in Angus yesterday – a day her family feared they would never see.
Ten-year-old Ruby Walker excitedly met her primary six friends at the gates of Hayshead primary  in Arbroath after waving proud mum Diane goodbye.
It was a far cry from the agonising months and years the family spent waiting for a donor to enable the youngster to receive a double lung transplant.
On March 28 this year surgeons at the Freeman Hospital in Newcastle performed the life-saving surgery, giving the youngster a promising future.
Now settling back at school, Ruby's new term marked another emotional chapter in her young life.
Her mum, Diane Boyd, said she had been "very excited" about going back to school and to being a "normal child."
"She was excited about being able to go into the school herself – she wouldn't let me go in with her.
"I dropped her off, she met her friends and they walked into the playground together.
"It was really emotional as she has wanted to do that for so long; she is no longer confined to a wheelchair on oxygen.
"Every single day I think somebody has made this possible. Somebody has lost their child.
"Ruby didn't have much longer left – it saved her life and has given her a quality of life she never had."
Diagnosed with cystic fibrosis at just two weeks old, Ruby suffered a viral infection when she was only seven months old, leading to damage to her lungs which her reliant on oxygen.
She was added to the transplant list in late 2016 but her condition deteriorated dramatically towards the end of last year.
As the agonising wait for a donor continued, Ruby's life hung in the balance on Christmas Day when one of her barely functioning lungs collapsed.
Since the life-saving surgery, she has built up her strength although she has to attend weekly meetings with her consultants at Newcastle.
As well as looking forward to settling back into her school life, Ruby now hopes to learn to swim and ride a bike.
Ruby wasn't alone in stepping into her school uniform yesterday morning.
Some 1,229 pupils walked through the school gates for the first time as they started their primary school education.
Angus Council's Children and Learning Convenor Councillor Derek Wann extended a warm welcome to young people, families, carers and teaching staff.
He said:  "I'm delighted to welcome everyone back to the start of a new school year.
"I'd like to extend a warm welcome to all of the new children and their families who are joining us this year.
"We enjoyed a very successful year and we look forward to another fantastic year of learning ahead.