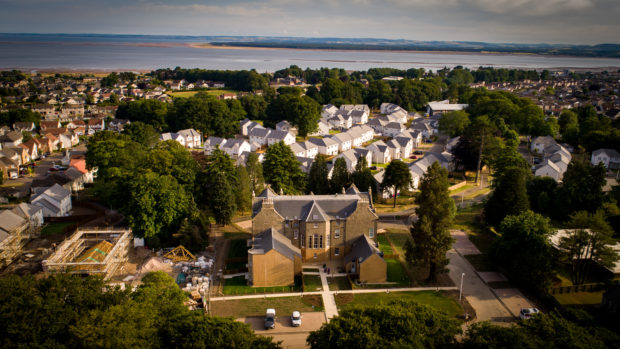 One of Scotland's wealthiest builders has been told it must uphold its commitments to a small Angus community.
Miller Homes, which made an operating profit of £151.1 million last year, was granted permission to build 164 homes at the former Ashludie Hospital site in Monifieth in 2015 provided it build a two-metre high wall to protect neighbours' privacy.
The builder recently submitted an application to build a wooden fence instead, prompting outrage from locals. One said the noise and light created by the development had ruined their quality of life, while another said the firm's activities were "bordering on elder abuse."
Councillors have now rejected the bid and told Miller Homes it must fulfil its commitments and put up a stone wall.
Monifieth Conservative councillor Craig Fotheringham said: "This is quite clearly Miller Homes trying to shirk their responsibility.
"It's an absolute disgrace."
The builder claimed digging the wall's foundations would have destroyed nearby trees and shrubs.
Nancy Robertson, who lives at neighbouring development The Stables, said traffic and building noise had denied her "any expected quality of life."
She said: "In the last few years I have had to endure eight hours of surgery and my blood pressure levels have sky rocketed. I am now using medication to try and stabilise this problem. Interestingly, the first question my doctors asked me was had I been under any stress."
She said she had listened to "cursing" and "machine noise" from 7am in the morning.
"The stress over replacing the promised substantial brick wall with an inferior wood fence has added immensely to my daily dose of stress, requiring further medication. This borders on elder abuse because they are well aware of why this wall has been requested," she added.
A Miller Homes spokeswoman said: "An initial condition of our planning approval for Ashludie Grange was to replace existing fencing along the northwest boundary of the site with a wall.
"The erection of a wall would mean that several trees on the land would need to be removed, therefore in order to preserve and enhance the land it was agreed a replacement fence should be installed together with additional landscaping.
"This was recommended for approval by the planning department. Following the decision to refuse the application we are now considering our options," she added.