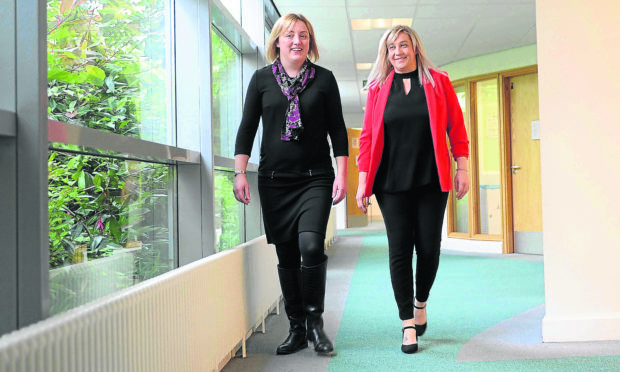 Cuts at NHS Tayside could undermine "beneficial" new approaches that are keeping patients out of hospital, a leading doctor has warned.
Clinical director Dr Alison Clement said the "financial constraints" at NHS Tayside could affect projects involving "social prescribing".
GPs use the approach to direct patients, for example those at risk of developing type 2 diabetes, towards exercise classes and healthy eating workshops before they require ongoing hospital care.
The method has also been used to treat mental health conditions, such as depression.
Dr Clement said: "NHS Tayside at the moment is under considerable financial constraints where we are in a position where we are looking to invest and save and develop for the future, rather than making savings quickly.
"There is a risk that we don't keep focusing on pathways and optimum patient care across the whole system. How we can ensure relationships with NHS Tayside that allow finance to flow to where it's best used across the whole system?"
The Monifieth GP made the comments at the most recent meeting of the Angus Health and Social Care Partnership (AHSCP) Integration Joint Board.
She gave the warning as part of a discussion on how the health body, which oversees health and social care locally, evaluates its own performance as part of a Scottish Government exercise.
NHS Tayside managers are making millions of pounds of cuts as they look to balance the books at the health board.
Dr Clement said social prescribing, which reduces the cost of secondary care delivered in hospitals and community clinics, could be one area affected.
She said: "Social prescribing has a lot of evidence of benefit in terms of decreasing the cost of secondary care. How do we create models that allow us to invest in social prescribing, rather than say, secondary care diabetes clinics?"
Social prescribing is a key part of ongoing work to prevent type 2 diabetes in Tayside. A project is examining how the technique, alongside the cost of drugs, GP and laboratory resources and specialist clinics, can reduce the number of patients whose condition requires ongoing hospital treatment.
An NHS Tayside spokeswoman said work to improve the board's finances would in fact support projects that looked at the "whole patient journey", such as those that included social prescribing.
She said: "Over the last year, significant progress has been made in stabilising the board's finances.
"This improving financial position, alongside the aims of the Transforming Tayside programme to step up the pace of health and social care integration and make whole-system changes, means we are now better placed to focus on working together to move more services from hospitals into communities.
"We are already working with our health and social care partnership colleagues across Tayside looking at the whole patient journey so we can better meet the changing needs of our population," she added.
Type 2 diabetes develops when the body becomes resistant to insulin or when the pancreas is unable to produce enough insulin. Overweight and inactive people are at more risk of developing the condition.