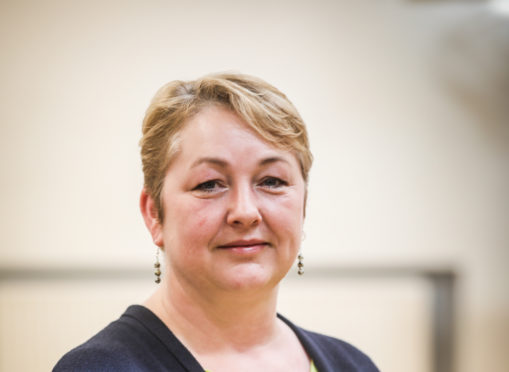 An Angus councillor has launched an eleventh hour petition in the hope of securing more time for talks on the £55 million Western Gateway "superschool", stressing no final decision has been made.
On the eve of Thursday's special meeting of the authority's children and learning committee in Forfar, Councillor Beth Whiteside, SNP member for Monifieth and Sidlaw, urged the local authority to back the project.
She criticised a joint statement issued last week by Dundee City, Perth and Kinross and Angus Councils which revealed plans for the school serving pupils from across Tayside had collapsed.
She said: "I am disappointed the three councils issued a press release in advance before councillors were asked to discuss or debate it.
"Thursday's meeting will be the first opportunity councillors have to vote on the project's future.
"Despite reports to the contrary, the issue of the new tri-council school in the Sidlaw/Western Gateway area has not yet been settled.
"The Lifelong Learning Committee in Perth and Kinross Council on Wednesday and the Children and Learning Committee in Angus on Thursday will both debate amendments proposing the three councils continue working together to find a solution for the young people in our area."
She confirmed she will propose an amendment in an attempt to keep the project on the table.
On Sunday, Councillor Whiteside and fellow Monifieth and Sidlaw SNP member Sheila Hands met concerned residents at a meeting called by Birkhill Community Council.
Representatives from the community council, Birkhill PTA, Liff parent group and Auchterhouse residents attended to express their frustrations.
Mrs Whiteside said: "The feeling in the local community is really strong.
"They have expressed their frustration against the attitude of Angus Council."
Her petition states pupils living in the Sidlaw area spend around one and a half hours per day on the school bus, travelling from beyond the West of Dundee right round the city to Monifieth on the East.
This reduces the amount of leisure and recreation time they have and restricts access to extra-curricular and social activities outwith school hours.
It states: "Our young people deserve equity of access to opportunities their peers enjoy.
"Their parents shouldn't face financial barriers for encouraging participation in such activities, or have to spend hours transporting their children in order to facilitate this.
"Our environment should not face the impact of hundreds of young people being bussed across Angus daily.
"Dundee City Council and Perth & Kinross Council are keen to collaborate on a new school to serve the young people near the boundary of the three local authorities.
"Angus Council, we urge you to fully consider the needs and the health and well-being of all the young people in Angus, and continue to back the new school."