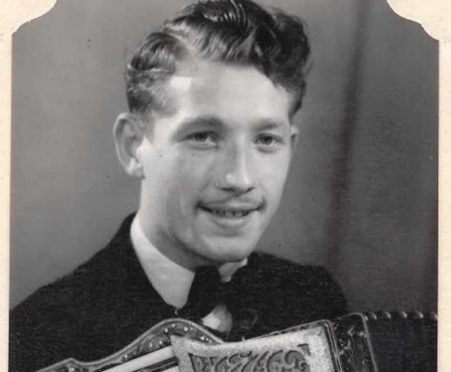 A popular Angus music teacher has died aged 89.
Clive Laing passed after a short illness.
He taught accordion to hundreds of young people and adults in the area during his life.
Born on July 27, 1930 in Kingsmuir, he went to school at Forfar Academy.
Clive started playing the instrument at the end of the Second World War and after three years of hard study began playing in dance bands.
A few years later he started giving lessons, which became his full-time profession. He also formed several groups to perform at charity events and ceilidhs around Angus.
His charity work raised money for MS charities, cancer research, Cats Protection and many local organisations.
One of Clive's students was Steven Carcary, who went on to become a well-known musician in the Scottish industry. He paid tribute to his former teacher.
Steven said: "It's thanks to Clive during the seven years of his tuition that I appeared on BBC television, aged 11, on children's programme The Untied Shoelaces Show, where I performed two tunes written by Clive: Paris Sunset and Au Son de la Musette.
"I am ever grateful for the extra time and tuition Clive expended to help me achieve that. I'm sure all his pupils from the past years will be grateful too."
Clive married Liz Smith, who is now dead. The couple, who lived much of their lives together in Forfar, had two sons: Barry and Scott.
Clive is survived by his sons and granddaughter Kristen.
He suffered a stroke 17 years ago, but nevertheless remained cheery.
A funeral takes places today (Tuesday) at Bains Service Room, Forfar, followed by a committal at Parkgrove Crematorium, Friockheim.