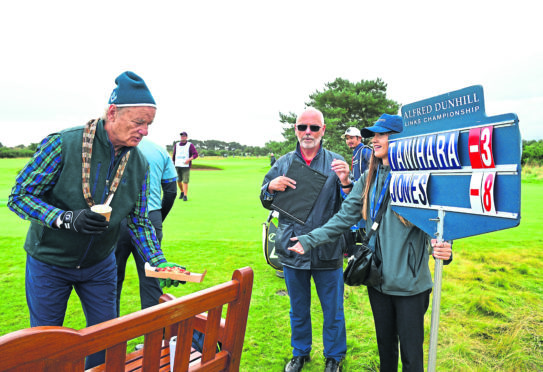 Groundhog Day star Bill Murray kept spirits up during a soggy second day at the Alfred Dunhill Links Championship – by handing out free hot dogs to walking scorers at Carnoustie.
Murray has a reputation for using his quirkiness to dole out random acts of kindness, and on Friday, he did it again, to the delight of the rain-soaked volunteers.
The 69-year-old's week at the annual pro-am tournament has already been eventful. A four-vehicle crash in St Andrews on Tuesday forced him to play his first round at the Old Course with his arm in a sling.
Also playing at Carnoustie was American singer Huey Lewis who revealed the visit to Courier Country was providing the perfect therapy for coping with hearing loss.
The Huey Lewis and the News frontman has not performed live for two years after being diagnosed with the inner-ear disorder Maniere's disease.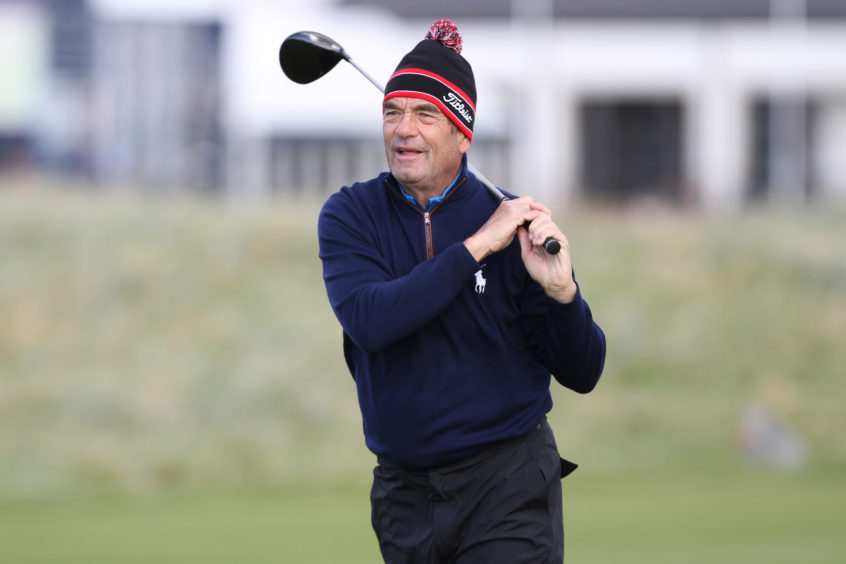 He was among the celebrities joining some of the world's leading golfers for the second round at Carnoustie, Kingsbarns and St Andrews for the Alfred Dunhill Links Championship.
The 68-year-old, who was playing alongside Julian Suri, said playing golf this week was helping him stay positive.
"Right now I'm pretty good but if it goes bad I can't hear music," he said.
"I haven't been able to work in two years because I can't hear music consistently enough. I might have one day when I'm okay, but there might be weeks when I'm just about deaf.
"Rather than worry, golf is something to do.
"At least you're worrying about your golf ball and not your hearing."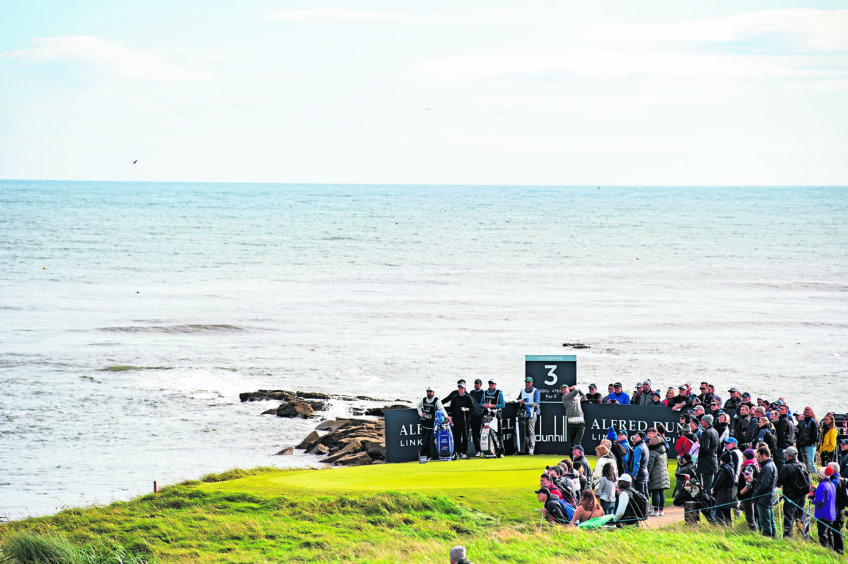 Peter Jones was also playing at Carnoustie and said anyone attempting to schedule a business meeting with him this week would have received his famous Dragons Den catchphrase: "I'm out".
"There's no chance I will allow anyone to put anything in my diary for this week," he said.
"In fact I'll block it out for the next 20 years."
Actor Luke Wilson was also playing in Angus and said he hoped a friendly rivalry with big brother and fellow actor Owen Wilson would stand him in good stead.
"Owen doesn't play golf though he is really into putting," he said.
"He's got a little putting green in the house.
"We have big-time competitions and golf is set up for some good gambling."
Dutch football legend Ruud Gullit was appearing for the 16th time and said it was still as big a thrill as ever.
The former AC Milan midfielder – who won the Ballon d'Or for the world's best player in 1987 – said: "It's quite an honour to be here, every time I play.
"It's an unbelievable feeling to play at the Dunhill."
The Alfred Dunhill Links Championship incorporates two separate competitions – a professional tournament and a team event where the professionals join forces with an amateur playing partner.
Linkin Park bassist Dave Farrell was just enjoying the experience and admitted touring made it hard to get the clubs out and keep his handicap down.
"If we're going to get a chance to play then I will take them on tour," he said.
"On tour I've had the chance to play golf in some places that I would never have played otherwise."
Other celebrities playing on Friday included pop superstar Justin Timberlake at Kingsbarns,
Final preparations are also being made for a spectacular fireworks display on the eve of Sunday's final day.
The show will begin at 8.25pm on Saturday on the West Sands, next to the Old Course.