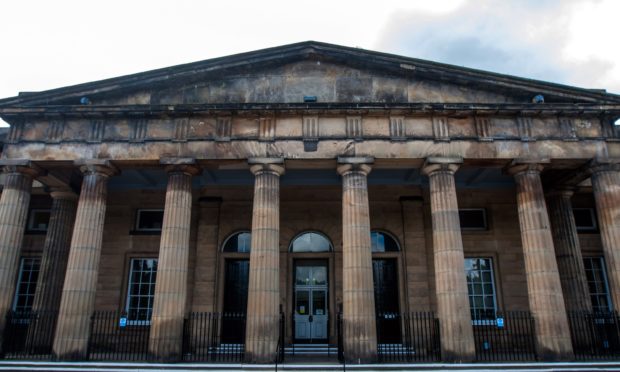 A courtroom spectator was locked up by a sheriff after he was spotted taking a photograph during a trial.
Euan Nicol, 36, was kept in a police cell for nearly three hours before being brought back and found guilty of contempt of court on Monday.
Sheriff Keith O'Mahoney said taking photographs in court could compromise the safety of the people working there.
Perth Sheriff Court was told that Nicol had no interest in the ongoing domestic abuse trial, which was taking place with the witness giving evidence from behind a screen.
Instead, he had turned up to support a friend who was due to appear from custody later in the day after being arrested at the weekend in Perth.
Depute fiscal Matthew Kerr was conducting the trial when he reported that Nicol had taken two flash photographs from the public benches using his mobile phone.
Proceedings were halted shortly after noon and court police staff arrested Nicol and confiscated his mobile phone.
When he was brought back to the court in handcuffs, Nicol, Oakbank Road, Perth, admitted he had taken photographs and sent one on to his girlfriend to show where he was.
Solicitor David Sinclair, defending, said: "His intention was nothing sinister or malicious. His purpose in being in court was to be a good friend to another man who was due to appear.
"He had taken a photograph to text to his girlfriend to say where he was and what he was doing."
Mr Sinclair told the court that his client, who was granted emergency legal aid to fund the hearing, had not noticed clear signs banning photography in the court building.
"This causes him great regret and he wishes to express his apologies to the court for disrupting business and to make it clear he has nothing but respect for the court," he said.
Sheriff O'Mahoney fined him £200.
He stopped short of forfeiting Nicol's phone after being told he would allow the police to delete both images.
When he was being arrested, Nicol said: "I took one picture to show my girlfriend and the flash accidentally went off. A couple of stupid photos. You can't arrest an innocent citizen – please don't put me in cells."