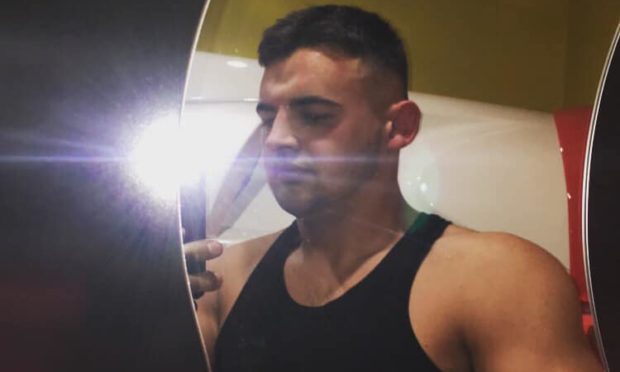 An "aspiring gangster" smashed a foe's car with a spiked hammer then sprayed CS gas in his face in front of police in a Kirkcaldy street.
Conner Davies, 23, armed himself with the pick hammer and prohibited spray before launching the attack on the BMW while Dean Wishart was inside.
Davies smashed the windows of the vehicle and sprayed Wishart in the face on Lawson Street on November 14, last year.
At Kirkcaldy Sheriff Court on Tuesday he was jailed for two years for what Sheriff Jamie Gilchrist QC said was a premeditated assault and "outrageous behaviour".
He told father-of-two Davies: "It would appear you have aspirations to be a gangster and this court must do what it can to frustrate those aspirations."
Davies, of Linum Grove, Kirkcaldy, admitted striking and damaging a vehicle with a pick hammer, possessing an aerosol adapted for CS gas, a prohibited weapon, and assaulting Mr Wishart by spraying him with a noxious substance.
He and his former co-accused Michael McGregor, 22, were arrested after plain clothed police in an unmarked car witnessed the drama, which happened at around 1pm on a Wednesday.
Charges against McGregor were deserted when the pair appeared in the dock.
The court heard police saw a Volkswagen Polo circling Lawson Street and surrounding streets and when a black BMW stopped, they saw Davies and McGregor run from the Polo towards it.
Davies was carrying a hammer with a large spike and starting striking and smashing the windows of the BMW.
The occupants of the car, including Mr Wishart, jumped to the rear to try to avoid being hit. Davies then sprayed CS gas straight into Mr Wishart's face.
Distressed and shouting for help, Mr Wishart began running away and the police officers called for back up.
Davies and McGregor made off in the Polo, which was intercepted by police in a marked car.
Solicitor David Bell said there had been a long-running feud between Mr Wishart's family and an aunt of Davies, and Davies had been informed of an incident where windows had been banged.
He said Davies, who has a previous conviction for possession of a weapon, had taken matters into his own hands but no longer associated with the company he had at that time.
---

---