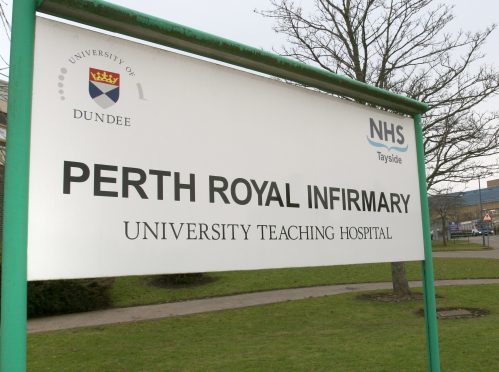 A drunken prisoner caused up to £10,000 of damage to a hospital door after running into it while trying to escape from police.
Grant Robertson had been taken to Perth Royal Infirmary after appearing to swallow some pills as he was arrested.
Perth Sheriff Court was told officers had been called to the home he shared with his mother following an early morning disturbance.
While at the accident and emergency department of the Perth hospital the 42-year-old pretended to go to the toilet before making a break for it through the paramedics' entrance.
The door failed to open and Robertson slammed into the glass, causing it to shatter. He was then able to exit the building but was recaptured by officers.
Depute fiscal Mairi Graham said: "At 8am the accused had woken up and started drinking alcohol. This led to an argument with his mother, which was heard by neighbours.
"At 9am the accused asked his mother to get him some food from Tesco, but she said no. The accused began shouting and swearing. He also seized her by the body to prevent her reaching the phone. Neighbours heard her scream."
Police were called and on arrival Robertson "appeared to swallow a number of tablets".
Ms Graham continued: "The accused was taken by ambulance to Perth Royal Infirmary, where his handcuffs were removed.
"He was escorted to a toilet by one constable. As the accused was leaving the bathroom he pushed past the constable and attempted to leave the hospital via the paramedics' entrance.
"The constables went out the public entrance to cut him off.
"The accused attempted to get out through the automatic doors but they did not open and he ran into them, causing the glass to smash."
Robertson was arrested outside the building ad a staff member told the officers the door would likely have to be replaced at a cost of £5,000-£10,000.
Solicitor Pauline Cullerton, defending, said he did not remember much about the incident.
She said: "Alcohol was a factor in this incident.
"He has little recollection of what happened but does accept his actions."
She added that Robertson had abstained from alcohol while on remand, which had "done him the world of good".
Robertson had earlier pled guilty to behaving in a threatening and abusive manner by shouting, swearing, acting aggressively and seizing his mother to prevent her using the phone at his home address on November 2 last year.
He further admitted that on the same date at PRI he attempted to defeat the ends of justice by running out of the hospital, smashing through doors and attempting to escape, and also to obstructing police officers.
Sheriff Keith O'Mahoney jailed Robertson, of Jeanfield Road, Perth, for six months.
---

---