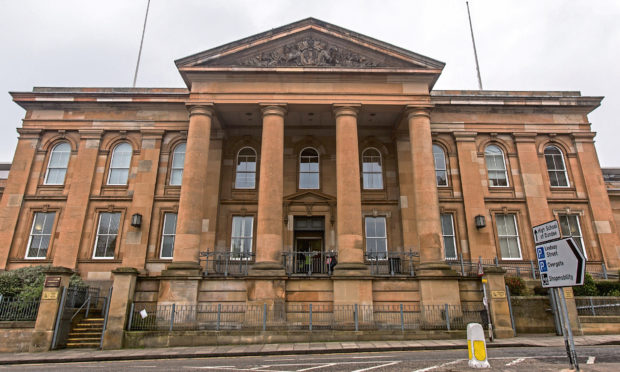 A drug addict who drove a mobility scooter while high just months after mowing down a child with the vehicle has avoided jail but been told to stay off his vehicle for a year.
Eric Stewart, of Burnside Mill, previously admitted failing to provide two specimens of breath after he was seen on CCTV trying to drive onto a pavement on Ann Street on December 22.
In August 2018, he had caused a "dreadful scene" in Dundee city centre by knocking down a four-year-old child while intoxicated.
Man on mobility scooter mowed down child while high on drugs
After ploughing into the girl on the Murraygate, both the youngster and the scooter toppled over.
She escaped serious injury but Stewart, 39, was handed a nine-month jail term and had been recently released when he again rode the scooter while drunk.
After pleading guilty, Stewart, who has various health problems including cellulitis, was given the chance to go through drug treatment or face further punishment.
At Dundee Sheriff Court on Monday,  his defence agent acknowledged he had failed to engage with drug services after leaving prison.
The court had previously heard police confronted Stewart after being alerted by nearby CCTV operators.
They noted he was slurring his words while acting as if he was extremely drowsy. His eyes were glazed and he was unsteady in his seat.
He also had what appeared to be fresh cuts on his head. When asked to take a breath test, he became uncooperative and obstructive.
The incident happened three months after he knocked over the little girl.
Addressing Stewart, Sheriff Lorna Drummond said: "You pled guilty to this offence at the intermediate diet stage. This is a serious matter and your report shows you have previous convictions.
"You have recently served a jail sentence and I could just send you straight back. The maximum sentence is six months.
"Given this is the only alternative, I am going to give you a restriction of liberty order.
"If you don't follow it, you will be straight back to jail."
Stewart was ordered to have an electronic tag fitted and to stay at home between the hours of 7pm and 7am for four months.
He was also banned from driving any vehicle, including his mobility scooter, for 12 months.