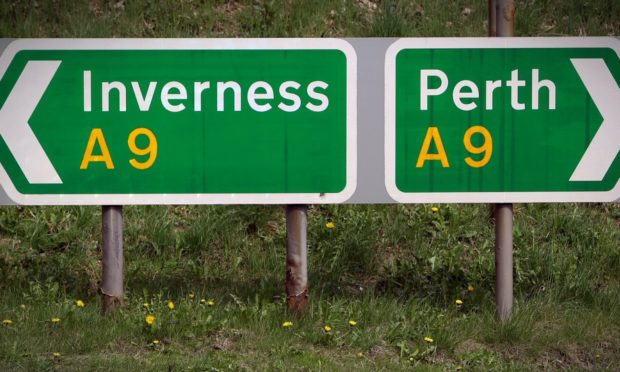 A mother-of-three attempted to drive almost 300 miles while more than five and a half times the legal drink drive limit.
Sarah Blackie planned to drive the full length of the A9 after setting off from Bathgate in West Lothian.
The 33-year-old was eventually caught near the Broxden Roundabout – more than 50 miles from her home – after an episode of dangerous driving on the A9.
Depute fiscal Mairi Graham told Perth Sheriff Court other motorists had been forced to brake hard to avoid a collision.
She said: "Witness Roberts was about fourth in a line of cars in lane two which were waiting to overtake a large goods vehicle.
"The accused's vehicle was observed approaching in lane one. In continued in lane one and proceeded to undertake the queue and approach the rear of the large goods vehicle.
"Witness Harper could see there was insufficient time or space for her to complete the manoeuvre and carried out an emergency brake to avoid a collision with it, which had a knock-on effect for the traffic in lane two.
"Witness Harper continued behind the vehicle and saw it swerving from lane to lane. He activated his camera in a cradle and began to film. Near Balhaldie he observed the vehicle nearly collide with the central reservation and called police.
"Police attended at Broxden and took a static point to trace the vehicle, which they observed 30 minutes later. They saw the driver take the first exit and caught up on the A9."
Blackie was stopped in a car park off the A85. Officers could smell alcohol and she was slurring her words.
Solicitor David Sinclair, defending, said Blackie had decided on a whim that she wanted to drive to the end of the A9 – a distance of 275 miles.
He said Blackie had significant issues with alcohol abuse but was now taking medication to prevent her from drinking.
He added: "The high reading such as this on a road like the A9 is a recipe for disaster. She's devastated by the potential consequences of her action for other road users.
"She had taken a drink and had access to the car – the notion as such was that she was intending to drive all the way up the A9. The car was available to her in Bathgate and a considerable distance was covered."
Warning a tearful Blackie she had narrowly avoided a jail sentence, Sheriff Keith O'Mahoney said: "You are on the cusp of a custodial sentence.
"It is sheer luck that there was not more serious consequences that would find you in the High Court."
Blackie, of Ochilview Square, Bathgate, admitted driving on the M80, A9 and A85 with 122mics of alcohol in her system on August 4. The legal limit is 22.
She further admitted driving dangerously on the M80 and A9 by undertaking a line of traffic, swerving across the lanes and in front of other vehicles, causing them to take evasive action, before colliding with the central reservation.
She was disqualified from driving for five years and ordered to sit the extended driving test. She was further placed under the supervision of social workers for two years and ordered to carry out 300 hours of unpaid work.