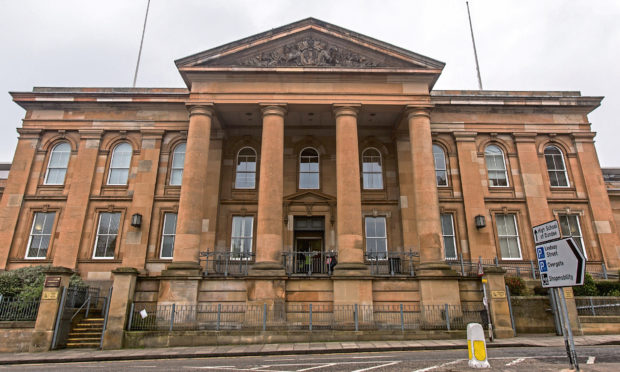 A Dundee woman knocked an OAP unconscious and robbed him on his way home from the pub after he declined her sexual advances.
Ashley O'Neill also caused a bloodbath in her home at Hoylake Place by repeatedly stabbing a friend with a pink vegetable peeler, leaving her disfigured.
The 33-year-old was later caught wearing a balaclava and carrying a knife on a city residential street.
O'Neill, a prisoner at HMP Perth, admitted all of the offences at Dundee Sheriff Court on Tuesday.
The court heard that on September 19 2018, 69-year-old Ronald Valentine was walking home via Hoylake Place and Hoylake Avenue when he saw O'Neill, who was a stranger to him, approaching.
She repeatedly put her hand in his pocket where his wallet was and asked him if he wanted her to perform a sex act on him.
The pensioner pushed O'Neill's hand away and swore at her, at which point she shoved him on the body.
Fiscal depute Charmaine Gilmartin said: "He fell and struck his head on the pavement, rendering him unconscious.
"Passers-by found him slumped on the pavement, injured.
"His pockets were empty – his wallet, mobile phone, bank cards and cigarettes were missing.
"He had a laceration above his eye and swelling to his cheek."
Police found O'Neill at home, smoking Mr Valentine's cigarettes.
She was on bail at the time, having launched a savage attack on friend Tracy Brannon a year earlier, on September 19 2018.
The court heard that there had been an argument over Ms Brannon allegedly stealing from O'Neill and the latter swung a knife, which she later described as a "veggie peeler", stabbing her friend on the legs and body.
Police found the scene covered in blood and Ms Brannon was rushed to hospital to treat her injuries, which have left permanent scarring.
O'Neill's offending continued on  November 29, 2019, when she went to St Columba Gardens wearing a hood and balaclava.
A woman whom she had had previous "tensions" with called the police after seeing O'Neill take out a knife.
When cautioned and charged, the accused told police: "I didn't cut her, all I said was 'this isn't over'."
Sentencing was deferred until March 11 for social work reports.