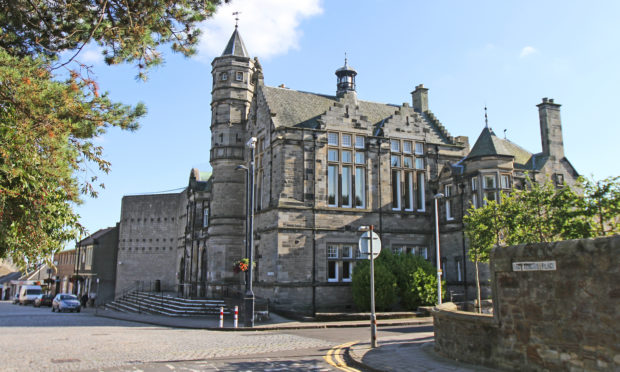 A high-ranking employee of a multinational defence company posted photographs and video of women he knew on a pornography website.
George Bell, 61, a senior project manager at BAE Systems who held security clearance, uploaded the content without the knowledge of the three women.
The uploads included video of one of the women performing a sex act and non-explicit photographs of the other two women, who were all known to each other, with sexual comments.
There were also sexual photographs labelled with the name of one of the women but showing a female who looked like her.
The distressed victims alerted police after one of them received a message telling her  they were on the well-known pornographic website.
Before his arrest, Bell had official-sensitive security clearance for military installations which has been suspended pending the outcome of his case.
At Kirkcaldy Sheriff Court, he admitted three charges against him.
He was placed on the sex offenders register and could be imprisoned when he returns for sentence on April 22.
The court heard that Bell used the name Just A Horny Guy to post the material.
Police drafted in the internet intelligence unit at Gartcosh and contact was made with the website's head office in Limassol, Cyprus.
Bell's home in west Fife was searched and a mobile phone and computer devices were seized.
His solicitor Brian Black said: "Until last year he had security clearance of official-sensitive in relation to military installations.
"He has been completely up front with his work in terms of the section 76 indictment and what that entails for him."
Meetings have been held between Bell and management, head of security and HR representatives of his firm.
Mr Black said: "He will still have a role at BAE Systems.
"Currently his official-sensitive clearance has been revoked pending disposal of this case but it has been indicated that once the disposal in court is known that that matter will be reclassified in terms of his value to the company at that time."
Mr Black said his client realised that a custodial sentence "will be uppermost in the court's mind".
Bell admitted recording a woman performing a private act without her knowledge or consent on various occasions between May 2014 and December 2014 and uploading a series of intimate images and video footage which showed or appeared to show her in an intimate situation on a pornographic website on various occasions between June 2018 and April 2019.
He also admitted acting in a disorderly manner by uploading images with sexual comments of the other two women on a pornographic website between October 2018 and April 2019 and posting sexual images and photographs of a women similar in appearance in one of them with the intention of causing others to believe it was her.
A spokesman for BAE Systems said: "Whilst we are unable to comment on specific cases, we have robust processes in place and in cases of criminal convictions, a range of sanctions available, including dismissal."