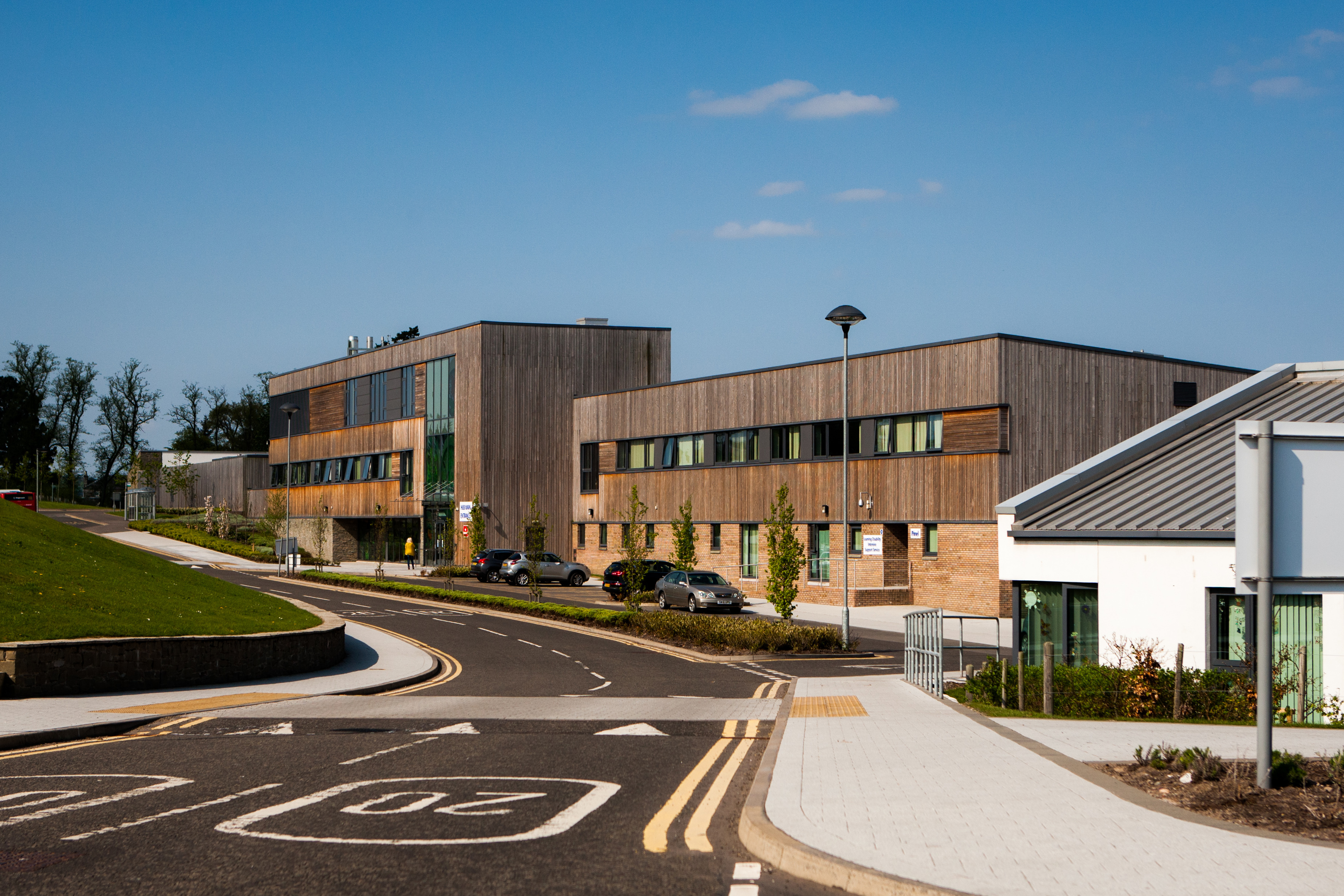 Tayside Health Board has been fined £120,000 over criminal failings that led to the deaths of three patients at a Perth hospital.
Jodie McNab, 22, Rebecca Sangster, 31, and 60-year-old Jacqueline Proctor took their own lives at Murray Royal Hospital's Moredun ward.
Perth Sheriff Court heard all three died by hanging, after health chiefs failed to respond to a previous warning about ligature points on furniture and fittings.
The board has admitted criminal responsibility for the tragedies, which happened between 2012 and 2015 at the unit which was supposedly designed for patients with acute mental health conditions.
Perth Sheriff Court heard that "robust" and "radical" improvements had been made at the ward since the tragedies.
But Sheriff Lindsay Foulis said: "It should not have taken three deaths for that very significant review to be undertaken."
He added: "If some thought and consideration had been applied here, these tragic events would not have occurred."
Speaking after the day-long hearing, Ann Sangster, Rebecca's mother, said: "The families here today have lost loved ones, whose deaths were not tragic single errors – they were avoidable incidents."
Mrs Sangster, from Abernethy, who has launched legal action for compensation, said: "It appears a disengagement from leadership and managerial responsibilities, a tolerance of poor standards, placed vulnerable people at risk and impinged on their well-being, safety and basic human rights."
She said the case "emphasises the shortfalls of what was a substandard service on many fronts."
"The guilty plea from NHS Tayside to their numerous failings on in-patient care at Murray Royal Hospital gives rise to hope, that they will be motivated to providing a safe and holistic mental health service in Tayside to vulnerable people in their time of need."
Ms Sangster, 63, added: "We can only trust the new management take the professional and meaningful approach required before others are harmed. Time will tell."
Jodie's mother Tracy Swan said: "Jodie was in a place of supposed safety when the events leading to her death occurred.
"Having learned of the health and safety failings within the Moredun Ward, we feel that she would have been safer at home with her family."
She said: "It has taken almost seven years for Tayside Health Board to accept responsibility for the failings that led to Jodie's death, and this has caused an enormous amount of stress and strain on us as a family."
Ms Swan said it was unfair that grieving families were subjected to such a lengthy process, "particularly when it was apparent to us from the outset that failings within the hospital led to Jodie's death".
She added: "We have been particularly devastated to learn that not only could Jodie's death have been prevented, but that recommendations had previously been made following a similar death which meant all beds within Moredun Ward should have been replaced long before Jodie's death."
The family has called for changes to mental health services in Tayside. "We would dearly like to think that things have changed since Jodie's death to prevent this happening to any other family," said Ms Swan. "Sadly we don't have the confidence that that is the case."
Ms Swan described her daughter as "kind and thoughtful", adding: "She worked hard to raise awareness of mental health issues and always put herself before others.
"She was full of mischief and had a good sense of humour. Words cannot express how much we miss her and will continue to miss her."
Chief Executive of NHS Tayside Grant Archibald responded: "On behalf of NHS Tayside Board, I wish to say that we are deeply sorry for the deaths of Jodie McNab, Rebecca Sangster and Jacqueline Proctor and for the pain and grief this has caused their families.
"The tragic events at Murray Royal Hospital were as a result of a number of failures which the board has admitted. It is very clear that these incidents should not have happened."
Mr Archibald said: "I appreciate that any action the board has taken after these tragic events is of no consolation to the families who have lost loved ones, but I would assure patients and families across Tayside that significant improvements have been made.
"I also offer my personal apology to the families involved and extend an invitation to meet with me if they would wish."
Chronic staff shortages blamed
Chronic staff shortages have been partly blamed for failures that led to the suicides of three women at Perth's Murray Royal Hospital.
During the three-and-a-half-year period in which the tragedies occurred, the Moredun Ward was regularly staffed by just 50% of the workforce due to staff illnesses, Perth Sheriff Court heard.
Representing the health authority in its first criminal prosecution, Peter Gray QC said: "As an organisation, it endeavours at all times to ensure that the services it provides are provided safely.
"It takes its responsibilities in relation to health and safety of both employees and patients extremely seriously."
He said: "It is a matter of profound regret and concern that, during this period, the organisation failed to meet the high standards it has set itself in relation to health and safety.
"And as a result of its failings, three very vulnerable were able to take their own lives whilst in the care of the accused organisation."
Mr Gray expressed the board's "deepest sympathies" to each family.
"It is clear that during this period, there were significant failings in the management and control of the ligature points at the Moredun Ward," he said. "And it is equally clear that these failures had tragic consequences, which shook the health board to its core."
Murray Royal Hospital opened in July 2012, and the Moredun Ward was designed to provide care for patients with acute mental health disorders.
"It presented staff with many challenges," said Mr Grey. "There were a series of individual rooms, rather than an open ward or dormitory that staff would have been familiar with.
"That design in itself rendered operations more difficult."
The ward, he said, was set-up for 30 patients.
"There was a general view that that was simply too large to provide effective therapy," he told the court.
"In short, staff found themselves in very challenging working environment."
Mr Grey said that there were staff shortages in key positions, such as health of service, inpatient manager or senior charge nurse.
"It is not surprising that, given these stresses on the system, at any one time during this period there were approximately 50% of the workforce off sick at any one time," he said.
"To address that difficulty, the ward was required to rely on agency staff, which resulted in a fundamental lack of communication."
He said the ward was operating in a "constant state of flux", adding: "It is against that background that these failings arose, and they were not addressed."
Mr Grey told the court the "radical" improvements had been made, including a reduction in capacity to 22.