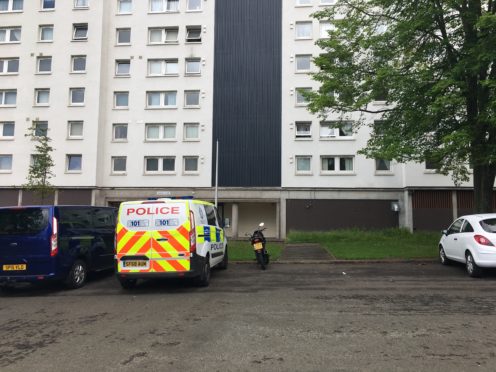 A man is set to appear in Dundee Sheriff Court on Monday in connection with a serious assault in a Lochee multi over the weekend.
The 28-year old was arrested and charged in connection with the incident, which happened at Elder's Court on Saturday evening.
A man, 32, was seriously injured and taken to Ninewells Hospital, but his injuries were not believed to be life threatening.
Residents reported seeing a heavy police, with officers carrying out door-to-door inquiries throughout the night.
At least two ambulances were also called to the scene.
One resident saw a man lying on the ground at the car park between Elder's Court and Adamson Court, near the communal bins.
He said: "I heard a lot of sirens and had a look out of my window. I was listening to music with headphones on, as I just like to keep to myself here. But even then I heard the noise from everything that was going on.
"There were loads of people hanging around and looking.
"I went to take my bins out and could see a guy lying on the ground.
"At first I thought he may have jumped from a window, but when I looked closer he was too far away from the building for that."
He said: "It felt like there were hundreds of police officers here. It took a while for the ambulances to get here. I saw one going right past the block and swinging all the way round the nearest roundabout to come back."
Another resident, who lives on the fifth floor, added: "I didn't hear what happened beforehand, but there was a lot of police. They came to my door and asked if I had heard or saw anything, which I hadn't.
"They seemed to be interested in the floors below me, around about the second floor, but I don't know why."
A police presence remained in the area through the afternoon.
A police spokeswoman said: "Around 7.30pm on Saturday, officers attended at Elders Court in Dundee after reports that a 32-year-old had been seriously assaulted.
"The man was taken to Ninewells Hospital where his condition is described as not life threatening. A 28-year-old man has been charged and is expected to appear at Dundee Sheriff Court on Monday June 22."
Meanwhile, another man has been subsequently charged in connection with a reported stabbing at the other end of Dundee last week.
A 28-year old man was arrested on June 19 amid reports of a stabbing near the Iceland on Campfield Square. Eyewitness reports suggest the incident was preceded by an argument over someone "coughing and spluttering" while not wearing a face mask.
A police spokeswoman confirmed that the man has since been charged and is due to appear in court soon.