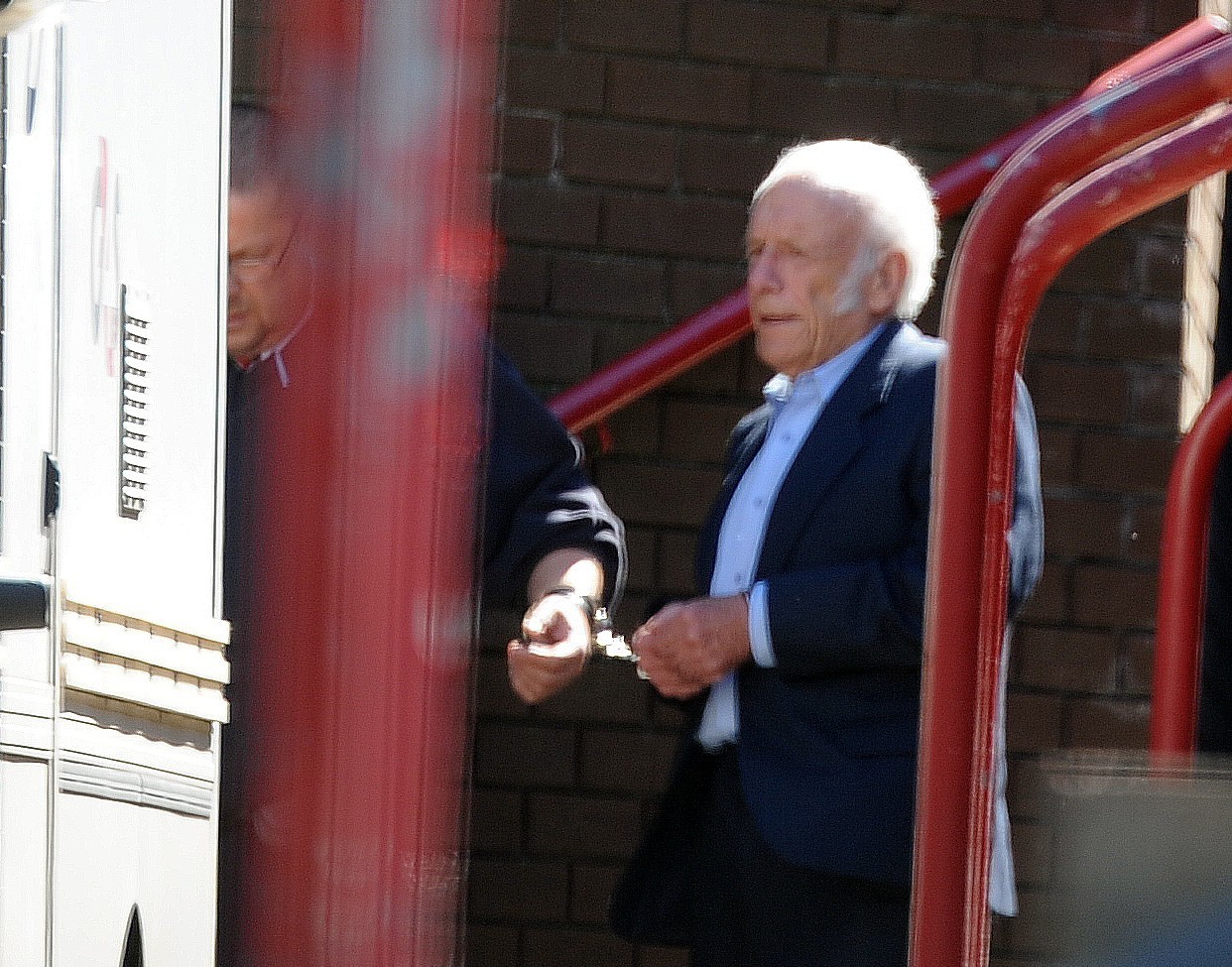 A pervert who preyed on a schoolgirl in a popular public park over 25 years ago is finally behind bars.
The victim, who was 12 years old at the time, was in court and in a letter read out before sentencing, called for a jail term.
She said her life had been ruined by the actions of Richard Brockie, now a frail 77-year-old but known to youngsters in the park as 'Randy Andy' at the time of the offences.
Brockie, of Katrine Crescent, Kirkcaldy, admitted that between March 16 1990 and September 3 1991 at Pittencrieff Park, Dunfermline, he used lewd, indecent and libidinous behaviour towards a girl and committed a sex act in her presence.
After Brockie was jailed for 16 months, the victim, now a mother in her 30s, said, "I'm happy with the sentence."
In her letter read in Dunfermline Sheriff Court yesterday by depute fiscal Fiona Nairn the woman stated she had written it to tell "how this man has affected me throughout my life."
She said she was bullied at school when others found out about it. "I always thought it was my fault," she added.
As a result, the woman had been put on medication for anxiety and anti-depressants.
She had trouble sleeping because she could see Brockie's "face and genital parts" in nightmares.
The woman said her husband had left her recently and that "he was never the same since he knew."
She concluded: "I want this man to pay for his crimes and go to jail."
Defence solicitor Stephen Morrison had called for a fine and compensation to be imposed.
However, Sheriff Craig McSherry said it was a course of conduct which lasted 18 months and merited a custodial sentence.
The victim said outside court she was relieved Brockie had been jailed.
"I didn't want his money. I couldn't believe it when the solicitor said that," she said.
"I wanted him to go to jail to pay for what he did. I think he believed he would walk free from here today.
"I'm glad I wrote the letter. I only finally decided to do that yesterday. The worst thing would have him to walk away and get off with it."
Dunfermline Sheriff Court was previously told that Brockie has "numerous convictions for matters of a sexual nature". He has previous convictions for lewd and libidinous behaviour and previous convictions for public indecency.
He has served custodial sentences in relation to these matters and was made subject to an indefinite SOPO (Sexual Offences Protection Order) in January 2008, which stopped him from having unsupervised contact with children under 16 and prevented him entering public parks.
Depute fiscal Claire Bremner told the court at Brockie's previous appearance last month: "At the time of the first incident, the complainer was 12 years old and at that time she often socialised with her friends within Pittencrieff Park.
"At that time the accused was someone who was known to her. He also frequented the park, would often speak to the young people congregating there and was often under the influence of alcohol.
"The first occasion which caused alarm took place in the spring time of 1990. The complainer was within the park along with her friends when she encountered the accused.
"He was under the influence of alcohol. During the course of the encounter he removed his penis from his trousers and underwear and masturbated in the presence of the complainer. That behaviour occurred on a number of occasions.
"The complainer did not disclose these offences at the time. However, in 2014. as a result of an incident involving the complainer's daughter, she brought these offences to the attention of the police."
Brockie was arrested on May 30 2014 and gave a 'no comment' interview at Dunfermline police station.
Defence solicitor Stephen Morrison pointed out the offences occurred 25 years ago but admitted his client had an "unenviable record".
He said his client now lived on his own, having been married twice before. He has a daughter and four grandchildren.
The victim used to meet her friends in the park every Saturday afternoon and Brockie would often speak to them.
She said, "We were naïve, just 12 when it started. We thought he was just a friendly old man. He would look like he was drunk but I think that was an act," said the victim.
The woman said that youngsters who went down the Glen knew Brockie as 'Randy Andy'.
"When I reported this to the police I didn't even know his real name. I just knew him as 'Andy' and that he used to drink in 'Raffles' pub back at that time."
The victim said she decided to report the matter to police after her own daughter was involved in an incident with a suspected sex offender.
Asked how the experiences in the park still affect her, the woman said she had endured sleepless nights since reporting the incident.
"It all started to affect me when I became a mum myself and I can't get the vision of him out of my mind. I knew I had to report it to stop these people getting away with it. When all the cases came out with Jimmy Savile, Max Clifford and the others on TV, it blew my head, thinking about it all."