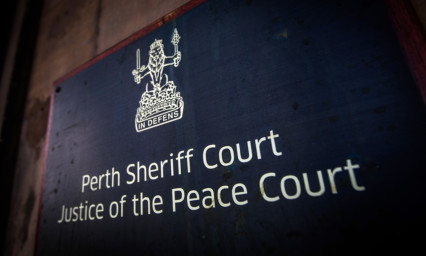 A Tayside property developer who drove at 120mph on the A90 before crashing into a wall has been banned from driving.
Mark Harris also reached 60mph through Main Street in Longforgan before he lost control of his vehicle.
The 46-year-old, of Mylnefield Road, Invergowrie, was also found guilty after trial of failing to stop by police when required to do so.
Sheriff William Wood told Harris that he believed police evidence previously heard during the trial, which lasted several months, that he drove up to 120mph while being pursued by police and also that he drove at speed in his Mercedes through the village of Longforgan, leading to him losing control of the car and crashing through a fence and a wall.
Harris had denied the charges, which took place on December 23, 2013.
Sheriff Wood told Perth Sheriff Court: "From evidence heard it was clear the road was wet and that there were potential hazards on the A90 that evening, including the possibility of animals and pedestrians.
"I have no doubt the evidence given by the trained police officers that the speed detecting VASCAR equipment showed you were driving at least 120mph on the A90 was reliable and that you must have realised they were following you with their 'blues and twos' (flashing lights) on, and reject the self-serving evidence given by the accused.
"I also agree with the police that you must have been driving at speed through Longforgan, where there were many hazards and find your claim that you saw a deer on the road incredible. The accused is therefore guilty of dangerous driving and failing to stop for police when required to do so."
Sheriff Wood said the officers had made it plain they were unable to catch Harris when their speedometer showed 120mph on the A90.
During the trial, Harris had told the court he had drunk three pints of lager 'tops' on the day in question and claimed he swerved to avoid a deer when driving through Longforgan.
Sheriff Wood found Harris not guilty of failing to provide a blood specimen at Ninewells Hospital, Dundee, on December 23, 2013, as he agreed the accused was "mentally unable" to do so because of his phobia of needles.
Sentence was deferred until May 18 for background reports and Harris was given an interim driving ban.