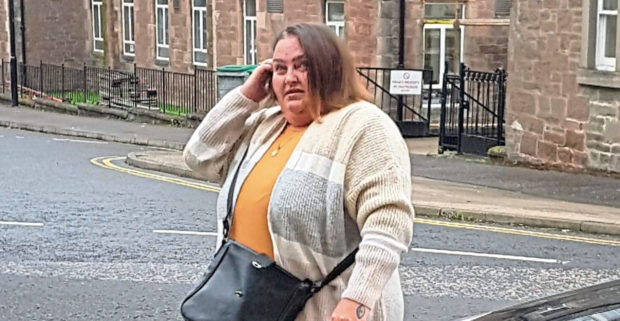 A jobless Dundee mother who ran a £200,000-a-year designer fakes empire from her home has been jailed for 12 months.
Susan Reid was making hefty profits selling counterfeit versions of clothes and accessories by top designer names including Ralph Lauren and Hugo Boss.
Reid, who was also found with nearly £8,000 in cash strewn around her modest Dundee home, was spending £3,000 a week buying fake stock.
She was then adding £5 or £10 to each item and still undercutting the retail price of the genuine articles by a significant amount.
Reid was selling to friends, neighbours and advertising what she was doing on social media sites as she brazenly sold scores of items each week.
A court was told that she was caught when police raided her home, but carried on for months until they carried out a second raid.
Sheriff Alistair Carmichael said: "In the need to reflect the public's distaste at this type of behaviour and to have an element of punishment, I don't think there's any alternative to a custodial sentence."
Dundee Sheriff Court was told that when detectives raided Reid's home they found stock worth thousands stacked high in several rooms.
The officers found hundreds of fake versions of big-name designer goods including Stella McCartney bags, Hugo Boss T-shirts and Ralph Lauren jackets.
She was also found to have nearly £7,500 in cash stuffed into tubs and in the property in the Downfield area of the city on November 30 2018.
She told the officers she was making up to £1,000 a week selling the goods as genuine and her illicit trade had an annual overall turnover of nearly £200,000.
She had "stock" piled up around her home, including fake Nike trainers, Chanel and Michael Kors bags, and Armani and North Face tracksuits.
Dozens of Ugg slippers and more than 40 North Face and Superdry hoodies were recovered, along with 50 Ralph Lauren coats, T-shirts and jumpers.
Reid, 44, of Lauderdale Avenue, Dundee, admitted distributing a variety of counterfeit goods from her home between December 1 2017 and November 30 2018.
The court heard that married Reid, who has children, was unemployed but did not claim benefits as she was making so much selling fake goods.
Solicitor Scott Norrie, defending, said Reid had been receiving deliveries from the counterfeit producers in Manchester and had felt under pressure to carry on her trade.