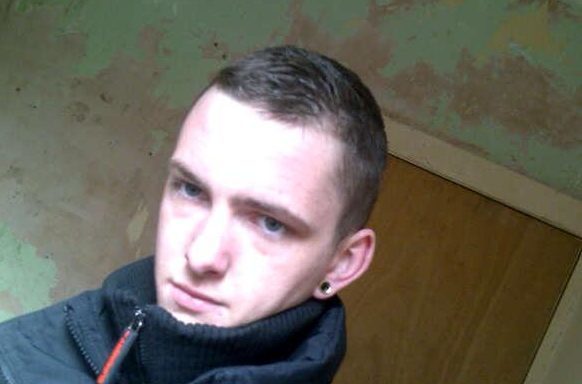 A courtroom was shown a video of a Fife man biting the head of his pet cat during a horrific attack which caused its death.
Craig Mills was later found by his partner covered in blood in bed with the dead animal.
Details of the sickening killing were shown at Dunfermline Sheriff Court where 22-year-old Mills was appearing for sentencing.
Depute fiscal Dev Kapadia said the incident occurred at Mills' home in the early hours of the morning when he was heavily under the influence of alcohol.
The cat had been trying to escape from the clutches of Mills but he continued to hold it on his lap.
"It was in a panic and continued to claw and cry. It was so distressed it then urinated," said the depute.
His then partner David Walker, who recorded the incident on his mobile phone, told police he had been too scared to stop Mills, fearing his anger would be turned on him.
Mills began to punch and slap the cat, which bit him in an attempt to escape. This resulted in Mills putting its head in his mouth and biting on it.
The cat scratched him to get away and Mr Walker, who was becoming increasing frightened at Mills' behaviour, left the flat.
"He received a phone call from the accused about 30 minutes later. It was from the accused who was hysterical and said the cat was dead," said Mr Kapadia.
Mr Walker went home and found Mills covered in blood. "He was lying in bed stroking the dead cat. He told Mr Walker he'd thrown it against the hallway wall and after that it didn't move."
Mr Walker put the dead animal in a shoe box, took it away and buried it.
Mills, of Union Street, Lochgelly, previously admitted that between April 9 and September 30 last year, he behaved in a threatening or abusive manner by carrying out acts of cruelty against the family pet cat and placed his partner in a state of fear and alarm by causing a cat unnecessary suffering by restraining it on his knee, distressing it and causing it to urinate.
He thereafter punched and slapped the cat, put its head in his mouth and bit it, threw it against a wall and killed it.
After being granted bail last month to await sentencing, Mills then committed a string of further offences including biting two people, one a policeman, which he has admitted.
On July 19 at Woodend Park, Cardenden, he shouted, swore, threw and broke a mobile phone and struggled with Kimberley Dow.
He also assaulted Kieran Campbell by biting him to his injury.
On the same day at Dunfermline police station, Mills assaulted PC Martin Ronald by biting him. He also assaulted PC Selina Bruce by spitting on her.
Sheriff Craig McSherry said he was considering "an extremely lengthy custodial sentence".
However, he delayed sentencing for a week for a psychiatric report and Mills will remain in custody until returns to court next Wednesday.