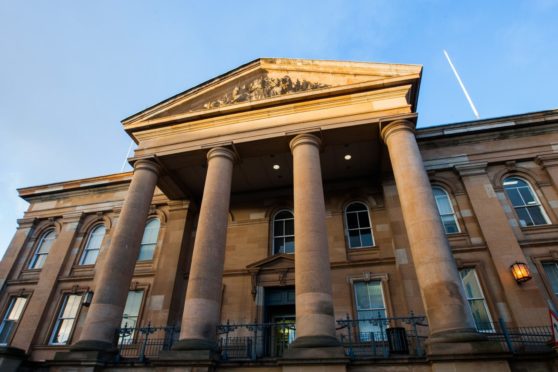 A Dundee man has been imprisoned for 22 months for terrorising an elderly couple in a late-night attack.
The brute had broken into their house on the city's Harlow Place in the middle of the night, looking for their grandson.
Barry Deick, 31, smashed a TV, broke windows, destroyed a fireplace and shouted death threats, along with his friend and co-accused Gary Batchelor.
He had been heavily drinking with Batchelor for 10 hours on the day of the offence.
The two men took a taxi from the Balcony Bar to the Law area to find a man with whom Deick was feuding.
Instead of finding him, the pair ended up traumatising his grandparents when they broke a window to enter into their home.
The couple, one of whom suffers from dementia, were left "extremely shaken" by the violation.
Long-running feud
Deick, formerly of Dunmore Street, appeared in court before Sheriff Paul Brown.
Defending solicitor Anika Jethwa told the court Deick and the couple's grandson had been having a long-running feud that played out on social media.
It was sparked by the targeted man entering into a relationship with Deick's ex-partner and the mother of his child.
According to Ms Jethwa, he had superimposed Deick's image onto articles featuring people convicted for paedophilia and shared the defamatory content online.
He was also alleged to have printed and posted pictures of Deick and spread them across Dundee.
Jailed
Ms Jethwa told the court her client was remorseful and was not aware Duncan lived with his grandparents.
"He was very upset to learn that [he, the grandson] lived with his grandparents.
"It is clear he shouldn't have behaved like this.
"This matter had been ongoing for five months."
Sentencing Deick to 22 months' imprisonment, Sheriff Brown said: "You overcame the security of the complainers' home and uttered threats to kill and damage property.
"It must have been a truly terrifying experience for the complainers and it's great, good fortune the police arrived promptly on the scene."